Torremolinos Accommodation
Torremolinos, name sounds familiar doesn't it? It's not just that hit song by Sttellla, or that text adventure computer game we used to play in the old days.
Torremolinos is the tourism-oriented city found in Andalusia in the south of Spain. What used to be a poor fishing village is now a popular tourist spot since the growth of resorts and development in the late 1950's. It was here that the first resorts were developed in the municipality of Costa del Sol. Hotels and accommodations for every budget are abundant.
You can choose from a range of things to do in Torremolinos itself or in the near outskirts. Marbella, Malaga and Ronda are nearby and are perfect for excursions.
Enjoy the perfectly pleasant temperatures while playing golf as many golf lovers come here to do. Bring the kids to the water theme parks (that you secretly really want to go to yourself), or you and a bunch of your friends can experience the many sport and leisure activities Torremolinos has to offer. At the end of the day, you can enjoy casino time!
This town has been catching up to other cosmopolitan atmospheres in attracting multinational tourists visitors from England, Germany, France, North Africa and Asia. The town has an estimated 60,000 inhabitants, plenty of sunshine, mix of cultures and lots leisure activities that you can enjoy along the 6 kilometers of many golden or dark sandy beaches and clear waters.
Yet, despite influx of tourists, accommodation is relatively available all year round.
Getting here and staying here is not at all a problem. It's only 5 to 15 minutes away depending on the means of transportation from the Malaga airport. You will also have an excellent international choice of restaurants, bars, night clubs and hotels.
Some well known hotels are the Hotel Pez Espada, beautifully restored hotel in 2002, is now is a lovely 7 floors with almost 200 rooms.
Hotel Riu Nautilus situated in front of the beach in the residential area of Montemar and it has almost 300 rooms.
Hotel Melia Costa del Sol is a 9 floor beach hotel with almost 500 rooms from singles to suites.
The sweet little Hotel Isabel is a more private place of 6 floors but just 70 rooms, just as private is the 5-floor Hotel Don Paquito.
If you choose to be the nearest to the action and views, another popular beach front hotel is the Hotel Sol Marco which is situated on the beach of Bajondillo.
Accommodation also includes budget hotels and hostels such as the Hotel Adriano, Hotel Roc Lago Oro and the Aparthotel Bajondillo are ideal for long-staying tourists who would want to stretch their funds a tad bit more.
Choose either luxurious hotels, hostels or apartment hotels. Whatever best suits your budget and your needs – like with or without parking, a garage, wi-fi etc. Wherever you may stay and whatever your plans may be, You'll find what you want here in Torremolinos.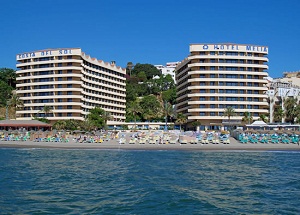 Check out our hotels page and book your stay before it's too late!
Return from Torremolinos Accommodation to the Malaga main page