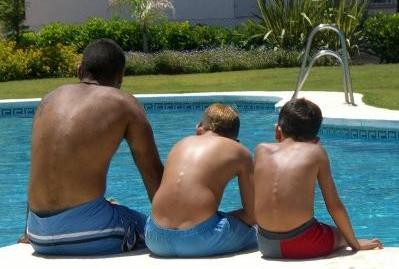 There are many health benefits of swimming, so enjoy your days in the sun with this great past time 🙂 Swimming is a great form of exercise and the benefits of swimming to our health are numerous. It is one of the most enjoyable and effective and is especially suitable for those who are overweight and the elderly.
Exercise is key to weight management, a healthy heart and increased energy levels and when coupled to a sensible diet (The Mediterranean Diet) is essential to live a healthy life.
It is a well known fact that obesity is widespread and contributes to increasing nutritional disorders in the developed world.
The lifestyle benefits of swimming can be experienced by anyone regardless of their health and age. It is great for those who can no longer withstand the high impact and joint stress of running or jogging.
Whilst in the water the stress on the joints are greatly reduced and swimming will allow you to increase your range of motion. The resistance of the water as you move your arms and legs helps strengthen muscles and joints without putting too much pressure on them. The buoyancy enables swimming to be injury free to the participant.
Swimming works the mind, body and spirit whilst improving muscle strength, the cardiovascular condition and endurance. It is a whole body exercise which will improve your heart and lung function whilst assisting in weight loss. It conditions your whole body and benefits those with high blood pressure, arthritis and diabetes.
It is also used as a training method for those recovering from an injury or surgery as it provides an effective workout without any impact. The buoyancy and warm temperature of the water ensures that your skeletal structure is relaxed and your joints are not as easily damaged. Although low impact because it is not weight-bearing it can help you burn off lots of energy.
Even if you can't swim, waist deep water will suffice to provide the water resistance that is required. Just hold on to the edge of the pool and kick one foot at a time backwards, or whilst still holding on to the edge walk around the pool sideways.
If at the beach, walking along the shore with the water reaching your calves will provide a good workout to your calves, ankles and thighs. Here in Andalucia we have access to the beach or a pool and when coupled with the excellent weather, there really should be no excuse for not trying this excellent method of exercise. Go ahead dive in!