It is often a worry when you travel on holiday that there may not be enough to do in and around your destination. Fortunately there is plenty to see and do in and around Marbella, for kids especially. So with this in mind, let's take a look at the best attractions for children.
Funny Beach
Situated right in the heart of Marbella, Funny Beach is a beach resort for thrill seeking kids with banana boats, trampolines, bumper cars, a go kart track, as well as a swimming pool and a beach side restaurant which serves things like pizza, burgers in baps, chips and other child friendly foods. Funny beach is a fun place for all ages with plenty of parking and it will keep the kids occupied for hours.
Marbella City train tour
For those who like their days to be a little more relaxed then why not take the kids on the Marbella city train tour. The train departs from the Lighthouse on Calle de Faro and meanders its way around attractions which include the Paseo Maritimo (the main promenade), the quaint old town, the Malaga bridge and the Bonsai museum. The train leaves every hour (on the hour) and a tour takes around 30 minutes.
Paintball Estepona
Paintball Estepona is a very popular attraction near Marbella, for kids especially and is a great way to combine fun and exercise at the same time. It has over 27,000 square metres of space and three different courses for them to try. They are Speedball- A fast paced obstacle course with rubber inflatable walls, night vision play and artificial grass. Urbana 4×4 – obstacles such as tyres, barrels trenches and cars are set in waste land to give it that really urban feel. Finally you have La Selva – A camouflaged area set in amongst scrub land. Children over the age of 7 are welcome, and it is always best to book in advance because it can get pretty busy.
Parque Aquatico Mijas Costa
Situated just 20 minutes east of Marbella, for kids this has to be one of the most fun places to visit and indeed a great place where you can cool off on a hot summer's day. The water park is the largest on the Costa del Sol and offers full on entertainment for kids and adults alike. For the older ones who like some fast fun, there are rides such as the aptly named Kamikaze, Labyrinth Slides and Adventure River. For the smaller children there is Lizard Island and Kiddies Slides. In addition to the plethora of rides the park offers a rock climbing wall, mini golf, live shows on the performance stage, gift shop, self-service restaurant, picnic area and massage services. The Parque Aquatico is a great day out for everyone but it does get pretty busy, so you will have to get there early.
Fuengirola Zoo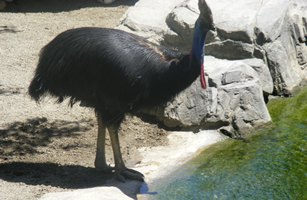 Again just 20 minutes east of Marbella is the Fuengirola zoo. With over 2 hectares of space the Zoo houses over 140 different species and over 1300 animals. It is well organised and clean and has plenty of shady planting, so if you do visit on a hot day, then you aren't going to be baking in the heat. The zoo is reasonably small and you can see everything within a couple of hours which is probably ample time. Recently the zoo changed it's name to 'Bioparc' in reference to its eco-friendly approach and the animals are in enclosures rather than in cages, which gives it a more natural feel.
So there you have it! When it comes to Marbella for kids, the city and the surrounding areas certainly isn't lacking. Arm yourselves with a good travel guide and enjoy.
Return to Costa Del Sol Tourist Information
Return to Andalucia Travel Guide homepage