Spanish Food is among the most popular in Europe. Its variety and simplicity means minimal effort and maximum taste! Ingredients are easy to come by and whether you're interested in cooking a paella or a spanish omelette (tortilla) don't be afraid to give it a try.
Depending on which region of Spain you visit you will encounter Spanish food dishes that are practically exclusive to that region. Due to Andalucia's size the cuisine of each region has a distinct taste and style that makes it so special and so delicious.
---
Coastal regions will specialise in fresh fish and don't be afraid to try some of the more intriguing dishes on the menu.
Here are some typical fish dishes;

Calamares – Squid in breadcrumbs. A traditional Mediterranean dish that is lovely with some lemon sprayed over and a side dish of fresh salad.

Gambas Al Pil-Pil – Prawns served in a sizzling clay dish with garlic and oil. The taste may vary from town to town but make sure you have plenty of bread to dip in the sauce!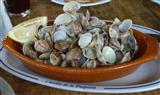 Almejas – Baby clams cooked in a white wine sauce. These are delicious when cooked properly. Make sure they are fresh and once again make sure you have bread ready for the extremely tasty sauce.
---
Inland you are more likely to find dishes that incorporate beef, pork and lamb. Farming is very big in Spain and meat is usually very fresh and very tasty. Depending on where you go you will find different sauces and flavours to go with the selection of meat on offer.
Rabo de Toro – A delicacy in Cordoba, this dish is 'bulls tail'. This dish is exquisite and you should definitely give it a try.
Montaditos – These small rolls are served with the meat of your choice. Pork is a favoured selection for most Iberian's but don't shy away from being adventurous.
Almondigas – Meatballs usually served in a tomato sauce. No need for much explanation!
---
These dishes are just a few of the specialties of Spanish food that can be found in Andalucia.
Another truly typical Andalucian dish is gazpacho, which is a chilled soup, made of a blend of tomatoes, peppers, cucumber, garlic, breadcrumbs, lemon and oil.
Do not forget to try the famous jamon serrano (mountain-cured ham). Jamon Serrano is one of my personal bests, so give it a try.
Oh and don't forget to try the Spanish snack, Churros, which is very often eaten for breakfast, but we also eat it as a snack in the evenings 🙂 Very often after things like fairs there will be stalls selling these lovely churros!
So, no matter where you go in Spain don't be afraid to try something new! Always ask if the food is fresh, especially if you're after the mussels and check the specials, you never know what might be on the menu!
If you feel ready to try your hand at cooking some Spanish food, please check out our Spanish Food Recipes