Go to any good cafe in Andalucia and the visitor will see locals dipping their churros into their coffee or hot chocolate.
The dough is piped through a star shaped nozzle and deep fried in olive oil until golden brown, drained and lightly sprinkled with sugar.
They must have a crispy crust and be soft inside. They must not be rubbery or oily and should be eaten immediately after frying.
Certainly not the healthiest of breakfasts but an excellent start to the day at any time and boy are they good!
If like me you enjoy them with a large coffee, accompanied by a small tot of sweet anis, the day begins on a perfect note.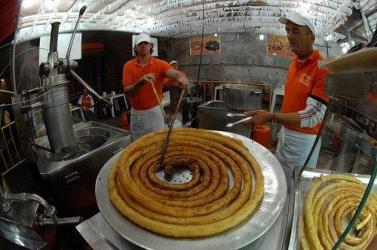 Ingredients
1 mug of water
1 mug of flour
salt
Olive oil
Method
It's simple to prepare.
Adding the salt to taste, bring the water to nearly boiling.
Add the flour and mix thoroughly. This will cause the mixture to thicken to the consistency of a smooth paste.
Place the paste into a piping bag and pipe it in a circular motion into the hot olive oil until lightly brown on the outside.
Remove, drain and serve immediately.
Sprinkle with sugar to complete the taste!