Cordoba Province is a mecca of Islamic heritage mixed with modern sophistication
Previously the capital of the Al-Andalus region the Cordoba Province is a mecca of Islamic heritage mixed with modern sophistication.
Like many of its Andalucian neighbours this Province was under the rule of the Moors during the medieval ages and this is evident throughout.
Historical landmarks such as the splendid Mezquita and the ruined city of Medina Azahara are without a doubt the main attractions but venturing round the entire province is worth while.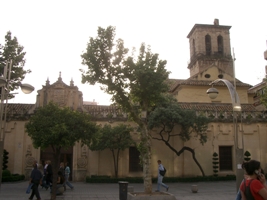 The most northern of the Andalucian provinces, the southern region is the most popular among the hoards of multinational tourists that visit every year.
Naturally the city of Cordoba ranks as the busiest, but the smaller unassuming towns of Baena and Priego de Cordoba are great stops for daytrips.
The city of Cordoba is of course monumental in appearance. Everything is within walking distance and you can very easily spend days wandering round the back streets coming across the many chapels, churches, cathedrals and monuments that have contributed so much to the cities historical aspect.
The northern region is sparsely populated and not a common visiting place for tourists. The region is famous for its 'Jamon Iberico de Bellota' – ham from small pigs that eat acorns giving the ham a sweet, nutty flavour. If you are a ham enthusiast then a visit to any of the villages would be worthwhile.
Being inland and with absolutely no coast line it can get extremely hot during the summer months. The dry heat that sweeps over the land is physically draining so in keeping with the local customs a mid afternoon nap is a great idea.
If you are a big shopper then the main city has something to offer although you should expect to see lots of souvenir shops and Arabic style pottery.