One of the most beautiful examples of Islamic workmanship is Cordoba's Great Mosque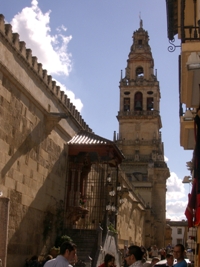 Arguably one of the most beautiful examples of Islamic workmanship Cordoba's great mosque (La Mezquita) is the jewel in the crown of the Province of Cordoba, and possibly the whole of Andalucia.
No where near as big as the Alhambra of Granada Cordoba's Mezquita makes up for its lack of size by its seductive interior. Funnily enough there are signs asking for silence but in reality it is hard to speak when surrounded by such beauty.
Construction of Cordoba's Great Mosque begun in 784 A.D. and took well over two centuries to be completed. Once finished it was the most magnificent of all the mosques in Cordoba and at the time it was also the second largest of all the mosques in the Muslim world.
Once inside the outer walls there is a pleasant courtyard/garden where many of the student tour parties gather and discuss what lays ahead. You are welcome to enjoy the open air and shade of the courtyard, especially on the hotter days but remember that a few thousand tourists can visit on any given day so the soft sounds of birds on shaking leaves can quickly be overrun by the voices of children and post graduates.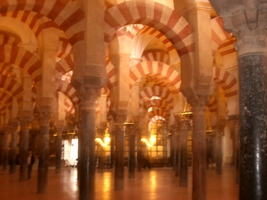 Once inside the actual Mezquita you will be forgiven for standing in awe at the majestic sight of one of architectures great achievements.
The interior is most notable for the symmetry of the 1000 plus columns that support the high ceilings. The columns are made from marble, granite, onyx and jasper that were originally from pieces of a Roman temple that lay on the same site.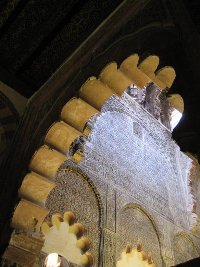 The history of the Mezquita has been a colourful one and whilst exploring its vast interior you will realise this.
The conversion of it from an Islamic Mosque to a Christian church is very obvious as the interior walls are decorated with tributes to prominent people of the province and there is a large altar located in the centre of the building.
Although the work done during the Christian conversion is not bad or distasteful it was deemed a bit of a catastrophe by Carlos V, king of Spain, as he said "You have built what you or others might have built anywhere, but you have destroyed something unique in the world."
A bit of advice when visiting the Cordoba's great Mosque, go early. Avoid the hoarding crowds of packaged tours and school trips by going before 10am. In fact, between 9 and 10am entrance is free.
Finished reading Cordoba's great mosque? Return Cordoba's sights