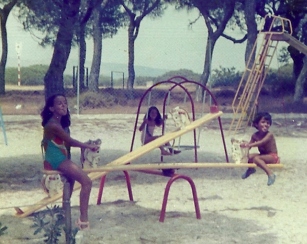 Your whole family will enjoy a camping Spain holiday!
I remember when we were little we used to go camping in Spain or Portugal every summer and we used to enjoy ourselves loads as you can see from our old photos!
Even now at 29 years of age I still enjoy camping holidays in Spain with my friends.
We went to a great Spanish campsite in Tarifa this summer.
It was the first time we had gone to this one; however we have been to many others in Tarifa.
Camping is the most affordable holidaying you can do and I will put my hand up and say that it is also the most enjoyable for me.
In peak season this summer (2010 at time of writing) I paid 32€ for 2 nights which if you ask me is very good. The campsite I stayed at had a pool, bungalows, caravan plots along the tent plots, a bar/cafe/restaurant and a little supermarket! Read more about our Tarifa Camping Weekend.
Camping has become ever more popular and many more people are now choosing it as their perfect holiday in Spain. It is great for families or even if you want to go with your partner or friends.
Andalucia is the ideal region to have a camping trip. It has a bit of everything, whether you prefer being in the countryside, by the beach, in the mountains or close to a city. There will definitely be a campsite to suit your preferences.
Your stay can be as basic as you wish it to be or you can take it up a notch and stay in a fabulous mobile home. Recently most of the bigger campsites also offer accommodation in bungalows.
Tent camping in Spain is the most popular option and it is not unusual to find campsites in Spain that have all their plots full during the summer months…book well in advance if you wish to go. Recently caravanning is becoming increasingly fashionable and the campsites have bigger plots to accommodate them.
Types of Camping Spain has to offer
There are 3 main categories of camping Spain has to offer. The third category is the most basic category and will have a plot to set up your tent, showers and toilets.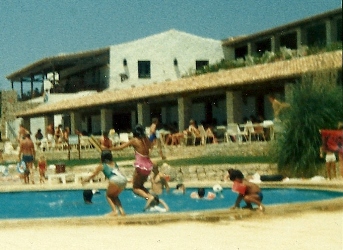 The second category will include a few other facilities such as a pool; possibly a restaurant or cafeteria and they will most likely have telephones on site.
The first category will include laundry facilities and a supermarket for your basic needs. They will be more expensive although still cheaper than a hostel or hotel, but they will provide everything you need even for a longer stay.
Some campsites in the first category might also include a playground or a fun slide for kids at the pool.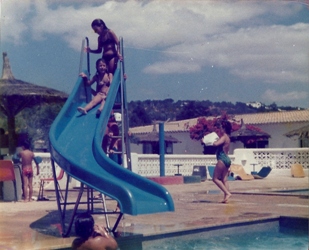 As you can see from our photos we used to really enjoy the one with the slide at the pool and went back to that one a few times in our childhood.
I distinctly remember requesting that one whenever my parents would tell us we were going camping again.
It's the little things that amuse kids isn't it.
If you plan to go camping in southern Spain please remember to book in advance and please tell us all about it.
I'd love to hear about everyone's different experiences of their camping holiday in Spain.