Spanish holiday traditions are some of the liveliest in the world. They are a very colourful nation that likes to celebrate with great enthusiasm.
The chance of getting involved in Spanish holiday celebrations is very good as there are so many of them spread throughout the year.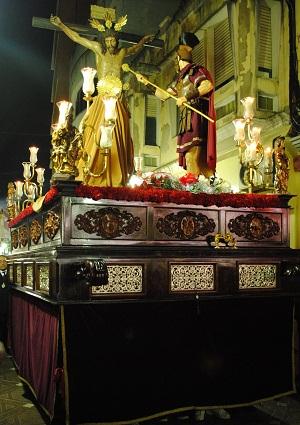 If you spend any amount of time in Spain, you are bound to be around on one of their holidays.
As with any country there are holidays that are celebrated nationally, but there are also days that celebrated only in certain towns and regions.
The Spanish really know how to have a good time, with many of these extravagant parties going on for a few days.
Locals and foreigners alike join in and fun is had by all.
For the purpose of this page, we will stick to holidays and celebrations that are either National, or specific to the Andalucia region.
Spanish Holiday Traditions
01 January
National
New Years Day (Año Nuevo) A major day for celebrations all around the world, including Spain. A tradition that is specific to the country is the eating of twelve grapes. The grapes are eaten during each of the twelve chimes of the clock as the New Year rolls in. It is considered good luck if you finish all the grapes in time.
06 January
National
Three Kings Day (Día de Reyes) This is Christmas for children in Spain and is when they will receive their presents. It falls twelve days after Christmas and celebrates the coming of the three kings. Some towns will celebrate the eve of this day by dressing three men up as kings and taking a procession around the city.
28 February
Andalucia
Andalucia Day (Día de Andalucía) On this day in 1980, Andalucia was voted in to be an Autonomous Region of Spain. Green and white is the order of the day as the proud people of Andalusia display the colours of the region. Very much a cultural event that is also celebrated in schools.
March/April
National
Easter (Semana Santa) Easter is celebrated for a week from Palm Sunday to Easter Sunday, the Spanish really go all out. Read more on our Semana Santa page.
01 May
National
Labour Day (Día del Trabajador) Spanish holiday traditions for Labour Day differ from place to place and year to year. One thing to remember is do all your shopping the day before as most of Spain will be closed for business.
24 June
National
St. John's Day (San Juan) This day is more popular in the coastal towns as people celebrate with bonfires and camping on the beach. At midnight on the 23rd everyone runs into the water to symbolise a baptism and washing away sins. Camping on beaches in Spain is not normally allowed, but an acception is made for San Juan.
15 August
National
Assumption (La Asunción) This is a Roman Catholic holiday celebrating the assumption of Virgin Mary into heaven. Very much a religious day celebrated throughout Spain.
12 October
National
Hispanic Day (Día de la Hispanidad) A heritage day where the people from Spain can look back on their roots and ties with the Hispanic community. The day is actually a celebration of the day Christopher Columbus discovered the Americas.
01 November
National
All Saints Day (Día de todos los Santos) A very sombre day for most of Spain as people take the time to remember the dead and go to place flowers on their graves. In Cadiz though, the people have turned the day into a bit more of a celebration and everyone gets involved with a festival atmosphere.
06 December
National
Constitution Day (Día de la Constitución) This day celebrates the signing of an agreement which turned Spain into a democracy. While it should be a happy day, some years the people have decided to use this day to stage protests about issues affecting the community.
08 December
National
Immaculate Conception (Inmaculada Concepción) Another religious Spanish holiday tradition, celebrating the immaculate conception of Mary. Seville has the most outspoken celebrations on this day, with street parties and dancing. It is definitely the place to be.
25 December
National
Christmas Day (Navidad) We all know about Christmas day, but it is not as important in Spain as in the rest of the world. Parents hold the children's gifts until January when they celebrate the coming of the Three Kings.
Believe it or not, these are not all of the Spanish holiday celebrations. There are a number of additional Fiestas and Ferias which may be less recognised, but hold large celebrations and parties.
Check out our Fiestas and Ferias calendar to see what's happening and when. Some of these celebrations last for days and shouldn't be missed if you can help it.