The Top Ten Costa Del Sol Attractions
If you are planning on visiting southern Spain and the Costa del Sol and are a first time visitor, then you may not know what there is to see and do in the area. With this in mind, here is a top ten list of the best Costa del Sol attractions.
Fuengirola Zoo
The Zoo located at Fuengirola prefers to be known as a 'Biopark'. The reason for this is that they are leading the way to create an ecologically and environmentally friendly zoo for the animals. As a result animals are allowed to roam about in a semi-natural environment so no stark and cramped cages here! For younger children there's also a play park and petting farm where they can get interactive with the animals. It is open from 10am daily and is only 5 minutes walk from the train station, so access is easy.
Water parks
When it comes to Costa del Sol attractions,what better way to cool off in during the long hot summer days than at a water park. There are two great water parks situated west of the airport. One being at Mijas Costa/Fuengirola and the other at Torremolinos. These come under the guise of 'Aqua Mijas' and offer fun for all the family from white-knuckle rides through to gentler attractions for smaller kids. The other is about 40 kms east of the Airport at Velez Malaga. This is known as Aqua-Velis It's a large water park with slides and shoots, and plenty to do for the smaller children also.
Costa del Sol beaches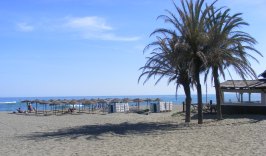 There are over 100 beaches along the length and breadth of the Costa del Sol coastline and as a result you are never too far away from one. Why not do what the Spanish do and pack your cool box and beach chairs and spend the day relaxing with the family. The majority of beaches have excellent facilities as well as disabled access.
Golf
Similarly to beaches, you are spoilt for choice if you are a golf enthusiast. With over 50 great golf courses to choose from and 320 plus days of sunshine, it isn't hard to see why people flock to play here from all over Europe.
Marbella/Puerto Banus
Known as the playground of the rich and famous it isn't hard to see why this is one of the top Costa del Sol Attractions. Designer shops, a fantastic marina at Puerto Banus, great beaches, top department stores and fine restaurants keep people coming back for more. Marbella old town is certainly worth a visit and still retains it's quaint charm.
Most people only tend to visit the city when they are transiting through the airport either to or from their holiday destination. In fact, Malaga is well worth a visit in it's own right. Museums, parks, great tapas bars and plenty of history, make this a great stopping point.
Selwo Park
Selwo adventure park is a safari style adventure park situated in Estepona. Here you can get up close and personal to some of the larger animals. You can also walk through the largest aviary in Europe containing over 1000 birds, trek down to the lake and view the flamingoes. Also on offer are camel rides, falconry displays, archery, rope slides and much more besides.
Spain is known for its 'Ferias' and gives any would be visitor a chance to throw themselves into local festivals that are a part of Andalusian culture. They provide an excuse to party so be prepared for loud music and much dancing into the wee small hours. Marbella ferria kicks off in June, Malaga is next in August and Fuengirola celebrates theirs in September. In addition every town and village on the Costa has their own ferria so if you arrive too late for one, then find out where the next one is and head for that.
One of the most stunning of Costa del Sol attractions are the Nerja caves. Surprisingly they weren't discovered until 1957. A guided tour of the caves unearths drawings of snakes and turtles which harp back over 15,000 years. It also houses the world's largest stalactite.
Water sports
Southern Spain, particularly the Costa del Sol offers a myriad of water sport opportunities including wind surfing, kite surfing, para gliding water skiing, jet skiing and sailing. You can enjoy the wide variety of sports at many places based between Malaga and Sotogrande.
There you have it, the top Costa del sol attractions. Whenever you visit, there is always plenty to see and do, so enjoy the area and above all embrace it.
Return to Costa Del Sol Tourist Information