Malaga Airport (IATA: AGP) is your main gateway to everything amazing Andalucia is – sun, fun, sea and the fascinating dash of history and civilisation.
Located only eight kilometres west of Malaga city, this airport welcomes millions of people annually, attracted by the flavoured recipe of the perfect holiday in Spain.
The success story of Malaga Airport starts back in 1919, when the legendary Didier Daurat began regular flights with Aeropostale (today Air France) between Malaga, Tangiers and Toulouse.
In 1946 the airport was opened to international civil passenger flights. After this moment, the airport never ceased its expansion, the interest for Spanish wonders grew, and more and more tour operators started to sell packages with charter flights landing in Malaga.
Today the airport operates two terminals, with a third one under construction and scheduled to open in 2009.
Malaga Airport has great connections to any kind of transportation you've chosen to reach your dreamy holiday location.
Either by rented car, by train, by taxi or by bus, the transport infrastructure will give you the holiday feeling from the beginning, by putting every convenient option right at your fingertips.
The public transportation serves Malaga city centre by Cercanias Malaga bus, while the Marbella station can be reached after a short ride with the airport coach Fuengirola. The buses run all day from 6am to 12 in the night, and serve both the 1st and 2nd Terminals, while a half hour train service takes you from the main terminal to the city of Malaga and Fuengirola.
If you wish to take a cab, there are plenty hunting for passengers to the airport. Right next to the airport runs the main coast road A7, linking to the AP7 Autopista del Sol motorway for the westerner Marbella, Gibraltar, Fuengirola, Torremolinos and Benalmadena, and for Granada, Malaga and Nerja in the East.
Finding a car to rent is not a big deal, as local companies such as Helle Hollis and Niza Cars or the large multi nationals such as Hertz and Avis, are ready to serve you.
Still, in order to avoid any issues that might occur within a popular destination's airport, it's recommended to book the car before your arrival.
More than 12 million people pass through each year, and most of the important players on the airline market schedule flights in order to connect not less than 60 international destinations with Andalucia. Many of these visitors will stay at one of the nearby Malaga Airport Hotels.
The busiest routes come from the EU, with Ireland and United Kingdom on top of the list. Low cost, scheduled or charter flights, domestic or international, from Easyjet and Thomson Fly to British Airways, Iberia and Delta Airlines, almost all the European destinations and moreover, the United States, send their passengers daily to Malaga Airport, the gateway to the Spanish dream. The real time flight schedule can be accessed through AENA website.
Bars and restaurants, duty-free shopping, Internet service, a pharmacy, bank cash points and children's play area cater for every special need of the passengers passing through Malaga Airport. Because Andalucia is not only about leisure, it also offers facilities in VIP rooms for business meetings etc.
And if you feel bored while waiting for your next flight, why not relax in the exhibition hall, displaying every month a little more of the innovative Spanish artistic sense.
Please take a look at this great site for further information on other airports in Spain.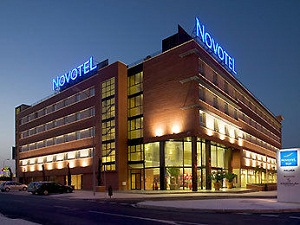 Check for available rooms and cheapest hotel prices on our Malaga Airport hotels page.
Return to Flights to Andalucia
Return for Malaga City Information
Return to Malaga Province main page