Have you been wondering about Nerja? Read on for some great nerja tourist information.
16 kilometres of beaches with fine, powdery sand, water as clear as the blue summer sky – this is Nerja of Andalusia.
This quaint community is known for its varied landscapes, friendly people and also for being one of the most attractive regions of Spain.
Around 50 kilometres away from Malaga, Nerja is known as the once sleepy fishing village of 12,000 people.
Here, you can find amazing views and feel a sense of history as you walk around town or get into a romance-mode taking a horse-driven carriage – just like in the movies.
Nerja has managed to stay away from becoming city-like. No concrete high-rise scenarios in this town. In parts of Nerja you can still see the unchanged façades of whitewashed houses with iron terraces full of geraniums.
To further enhance the mood, you will even hear the sweet sounds of canaries singing. Aside from that, you have a spectacular view of the grey and white-hued Sierra Almijara Mountain to the east.
In the heart of Nerja is the very popular "Balcony of Europe". This marvellous promenade is right along the edge of a towering cliff (A Moorish castle was once situated here). It has an amazing panoramic view of the Mediterranean, the famous Nerja caves, nerja beaches and behind all that, a breath-taking view of the beautiful dolomite marble Mountains
There are a lot of places you can visit in Nerja. Restaurants and cafes, the 17th century Church of El Salvador, the Gardens of Playa that leads down towards the Burriana Beach.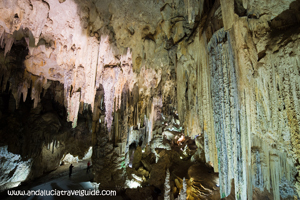 Nerja tourist information would not be complete without mentioning the most popular attractions – the fascinating caves of Nerja!
Nerja is also home to the world widest natural columns. Not too far away from town, one of the caves has been transformed into a Concert Hall every July, where many Flamenco performances happen and even international stars have had the honour of performing in. In other caves you can also find archaeological treasures like stone-age paintings that are over 200 times older than your grandparents. You might even stumble upon some critters in the Nerja caves known to be extinct for thousands, if not millions of years. So, think twice before crushing that eyeless, luminous beetle! You might have just made the discovery of the century!
Like most Spanish towns with strong maritime traditions, the town of Nerja celebrates their Virgen del Carmen Day every 16th of July honouring the patroness saint of seamen. The night before the festival they have floral offerings and then on the day of the festival, they have a specially-made boat that carries the image of Virgen del Carmen year after year out to sea. The festival culminates with an all-night feast, sometimes capped with fireworks display.
If festivals interest you, check out what other Nerja Festivals there are throughout the year.
For more of the night-time outings, The Lions club of Nerja holds a dance night every Friday at the Avenida Restaurant in Avenida Pescia. Everyone is welcomed to go there. Dancing, an open Bar and even a floor show is what you can look forward to. Again, unlike city life, no parking problems.
Check back often with this nerja tourist information page, as we will be updating it soon with information on villas to rent in nerja, hotels and restaurants!
Return from Nerja tourist information to Malaga Province
Return from Nerja tourist information to Andalucia Travel Guide homepage