Andalucia For Kids – check out the great attractions and activities!!
Andalucia is normally where the idea is to relax and take up the sun. However, Andalucia offers many things for kids also.
There are many things for them to do. You can rest assured that there never need be a dull moment with the activities available for kids.
To start off with there are a number of great beaches where you can relax, and your kids can have endless hours of fun. Most beaches will provide things such as, canoeing, paddle boats and banana boats. On other beaches, mostly around the Tarifa area, there will also be people providing surfing lessons and other fun activities.
Other than this here are a few other things which I remember going to when I was a kid, some when I was a bit older to be honest, and having great fun!
---
Tivoli World
(Benalmadena, Arroyo de la Miel)
This is the largest amusement park along this Coast. There are many different rides, some shows and great restaurants.
It is 6Eur to get in, and once inside you need to buy tokens for the different rides. However, if you buy a Supertivolino, for 10Eur, you can then have unlimited access to 38 different rides. Check out the website for further information: www.tivoli.es
Tivoli World opens from Semana Santa (Easter) until the 15th September, and in Winter it opens weekends, again check out the website for information on the opening hours as they can vary.
Alternatively you can call for information : +34 952 577 016
---
Mijas Aqua Park
(Ctra. A-7, Km.209, Mijas Costa)
This water park is great fun! I am 25 years old and still enjoy going!
There are great slides, especially the impressive Kamikaze! You can also find a Wave Pool, Kiddies area, and Volley Ball, along with an area with mini-golf and rock climbing. There is a lot of fun to be had here!
The prices are as follows:
Adults – 14,50Eur
Children – 9,50Eur (under 3 go in for free)
However, check out the website for special offers and discounts www.aquamijas.com
The Aqua Park opens yearly from 24 April – 1st Oct. Make sure that you check on the website for opening hours as they do very depending on the season.
There are also some great tips and advice posted on the website:
To avoid the crowds and queuing, come early or late in the season.
Protect delicate skin from the sun with sunscreen, hats and light shirts and secure glasses or sunglasses with a neck strap.
Lock money and valuables in lockers available for this purpose.
For your own safety please follow the lifeguards' and staff's instructions.
If you bring your own food, please use the picnic areas, no glass please.
Deck chairs and floats are available for rent.
---
Isla Magica
Another great theme park with many rides and attractions.
The prices and opening hours at this theme park vary depending on whether it is peak season or not. Check out their website for information depending on when you are planning to visit – www.islamagica.es
---
Parque De Las Ciencias (Science Park)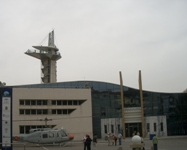 I visited this just last year in Granada and had great fun, but also learned a few things. The beautiful butterflies really impressed me and I also enjoyed the different games and activities there are. This is definately one activity in Andalucia for 'kids' of any age 🙂
The opening hours are from 10am, closing times may vary. However please note that it is closed on Mondays. It will also be closed on certain holidays, check website for further details and for prices – www.parqueciencias.com
---
Selwo Aventura
(Estepona, Ctra. A-7, Km.162.5, las Lomas del Monte)
This huge nature reserve has over 2000 animals living in semi-freedom. Their different natural habitats have been recreated.
If you decide to go to Selwo, there will be a lot of walking involved, so the most important thing is to wear comfortable shoes.
The entrance fees are as follows:
Adults – 22,50Eur
Children – 15,50Eur
Pensioners – 15,50Eur
The park opens at 10 am, however closing hours can vary depending on season.
Again check out the website for special offers and also for specific closing hours – www.selwo.es
---
Torremolinos Crocodile Park
(C/ Cuba, 14 29620 Torremolinos (MÁLAGA))
Situated in Torremolinos, the heart of the Costal del Sol. In Crocodile Park you will find yourself in front of prehistoric monsters which have miraculously survived 200 million years of evolution.
There are over 300 crocs to see, you can benefit from a great guided tour and see the live demonstrations and feeding frenzies!
The entrance fees are Adults: 11,00Eur, Kids (4-12 years): 8,50Eur, Senior citizens (+65): 9,00Eur, Children under 4 years: Free, Groups & Schools: Special prices
The park opens at 10am, however do check the website for their different closing times depending on the season.
---
Castellar Zoo
The Castellar Zoo is another great activity in Andalucia for kids. It is situated in the natural Alcornocales Park.
You will get to see everything from Gibraltar apes to lamas to leopards!
The entrance fees are Adults: 10,00Eur, Kids (up to 14 years): 6,00Eur, Senior citizens: 7,00Eur. Children under 3 can go in for free and also check back with their websites for special prices for groups.
The Zoo opens at 10am and in winter closes at 3pm whereas in summer will be open until nightfall. However, please also check with the website before visiting in case these change.
---
Ok, this is just a few things for starters, believe me there are many more places in Andalucia for kids. As I go checking them out I will add them.
I really hope you and your family have great fun in Andalucia!
For those of you who have already been to Andalucia and enjoyed something exciting, fun or magical with your kids, please share your story with the rest of us 🙂
What did your kids get up to whilst they were in Andalucia?
There are so many activities in Andalucia for kids! It is definitely a place where they will not get bored.
Have you already taken your kids to Andalucia? What did they find most interesting?
Is there a place that you took your kids where they had so much fun they will never forget it?
What did your kids enjoy?
The Aquaola Water Park near Granada
Kids. We've got four. And eight grand-kids too! And we love every single one of them. But when we decided to leave England and live near Granada…