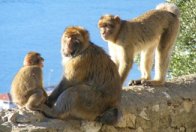 World famous and perhaps Gibraltar's most important tourist attraction, the Gibraltar Apes (Barbary Apes,Macaca Sylvanus), are actually tail-less monkeys. A lot of people still refer to them as the Gibraltar monkeys.
Natives of North Africa, their presence probably dates from the early days of the British garrison were it is believed they were imported as pets or even game, inevitably finding the rough limestone cliffs and scrub vegetation a congenial habitat.
The most common legend associated with the apes is that they travelled from their native Morocco via a subterranean tunnel starting at St Michael's cave leading underneath the Straits.
Another legend claims that should the apes ever disappear from Gib, the British will leave the Rock.
Indeed it is rumoured that during the second world war, the then Prime Minister, Sir Winston Churchill ordered that apes be imported to augment their numbers so that the legend would never become a reality.
However they came to be, the Gib Apes remain an important part of Gibraltar tourism and have been treasured for many years.
Return from Gibraltar Apes to Gibraltar Highlights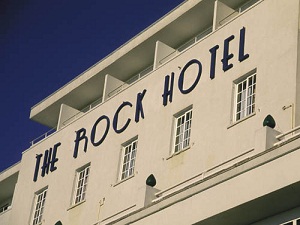 If you are interested in coming to see any of the attractions that this beautiful country has to offer, why don't you check out our page on Gibraltar Hotels