The labyrinth of tunnels known as THE GREAT SIEGE TUNNELS GIBRALTAR is perhaps the most impressive defence system devised by man. Most visitors inevitably come and see the tunnels as they are high up on the list of famous Gibraltar attractions.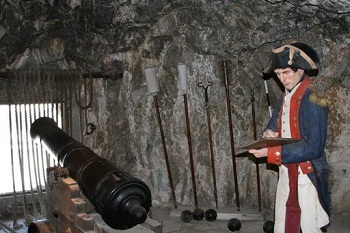 At the end of the Great Siege of Gibraltar in 1783, the defeated Commander of the French and Spanish troops, the Duc de Crillon, on being shown the fortifications that had led to the defeat of his troops, commented " These works are worthy of the Romans".
This comment highlights the ingenuity of those men who against all odds endured the onslaught of the advancing forces and were still able to devise a unique system of defence which afforded them victory.
It was during the war of American Independence, when France and Spain made an all out attempt to recapture the Rock from the British in Gibraltar's 14th siege, always called The Great Siege, which lasted from July 1779 to February 1783, that the then Governor General Elliot is said to have offered a reward to anyone who could tell him how to get cannons on to a projection from the steep north face of the Rock known as the Notch.
Sergeant Major Ince, a member of the Company of Military Artificers, forerunners of the Royal Engineers suggested that this could be done by tunnelling.
Work on the tunnels commenced on May 1782. The tunnellers relied on rude tools and gunpowder to blast their way through. In 5 weeks, 18 men had driven a tunnel 8 square feet by 82 feet into the Rock, as the work progressed; the fumes from the repeated blasting almost suffocated the miners, so the decision was taken to open a vent to let air into the tunnel.
Almost at once the realisation dawned of what an excellent embrasure this would make for a cannon. Work continued and the tunnel was driven into a huge chamber (St George's Hall) where a battery of seven cannon was installed.
In gratitude to Sergeant Major Ince, he was given a commission and granted a plot of land on the Upper Rock, still known today as Ince's Farm.
The entrance to the Upper Galleries is dominated by a Victorian 64 pounder cannon. Numerous other Victorian cannon dating back to 1850 can be found inside the Galleries as well as an original 18th Century cannon.
Give The Great Siege Tunnels Gibraltar a visit!
If this page was of interest to you, then you may wish to read our page on the History of Gibraltar.
Return from Great Siege Tunnels Gibraltar to the Gib Main Page