The Aquaola Water Park near Granada
by Dave Wilkes
(Granada, Andalucia)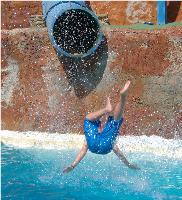 Jake shooting out of his "Death Tube"
Kids.
We've got four.
And eight grand-kids too! And we love every single one of them.
But when we decided to leave England and live near Granada several years ago, we thought we would miss our family members.
Not so. With the internet, webcams and the children having holidays at our house we continue to keep in close contact with our family.
And when they come out to visit us, one of the favourite places we all enjoy going to is the Granada Water Park – AQUAOLA. It gives us all a good family day out.
Actually the water park is burned in my memory because it is where grandson Jake persuaded me to go down what he called the "death tube". On the day in question I was enjoying the soothing peace of the Baths of Venus jacuzzi pool with Babs, my wife, when Jake came to find me. He was trying to persuade me to come to see the Death Slide!
Of course I went with him to look at "his" slide.
It is simply an enclosed pipe that you slide down and then get thrown outwards and upwards to fall two or three metres into a deep pool.
My swimming skills were not all that strong at that time and so in true loving Grandad tradition I insisted that he should go down the slide before I did. Unfortunately that is just what he did! And so I felt duty bound to follow..
Needless to say that all went well. I didn't drown and so I was able to enjoy the rest of the Aquaola's amenities with Jake and family with a clear mind.
Like most water parks, the Aquaola is self contained. And it is safe.
There are staff controlling the proper use of all the slides and attractions. Usually there is a supervisor at the end of each ride to signal when the last participant has left the area, thus making the water clear for the next rider to come down. And there is another supervisor at the top of each ride to control who goes down – and when.
Inside the water park there are clear signposts to point out such things as where the various rides are, where the First Aid office is, and where the cafeteria, restaurant and snack bars are etc.
There are attractions to suit everyone from the very small toddlers with the Pirate Galleon, right through to the pipes, slides and the Rio Brava for the older ones. In the nine years we have lived here we have been to the Aquaola with children, nieces and nephews of all ages and all have enjoyed their time there.
It is easy to find and can be accessed by bus, car and taxi.
If ever you are looking for a special day out with the kids, take them to the Aquaola water park near Granada. It is an experience definitely not to be missed.