Sierra Nevada
The Sierra Nevada mountain range in Andalucia contains the most southerly positioned ski resort in Europe. The height of the mountains peaks at an impressive 3.479 meters or 11,414ft which allows thick snow perfect for skiing and boarding on throughout the winter months, yet it is just a stone's throw from the Mediterranean coast. You really can be skiing in the morning and on a beach in the afternoon!
The skiing in Sierra Nevada is extremely good. To start with a few facts; There are 87km of runs comprising mostly of blues and reds. There are also 11 green runs and a smattering of blacks for the advanced skiiers amongst us. There are 24 lifts spread over 6 ski areas and even a snow board park with jumps, rails and of course the obligatory half-pipe! Sierra Nevada has developed a reputation as a good off piste resort with many accessible areas with lower risks of avalanches compared with other European resorts.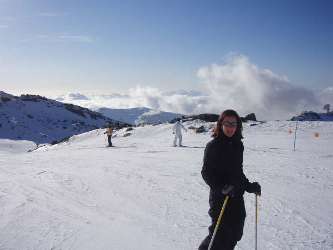 Sierra Nevada is a real family centered resort and is well equipped to handle children of all ages. Recently opened is a fun recreation zone where the whole family can zoom around on ski bikes and ice-skates or enjoy the roller-sled or 'inner tubing'. There is a creche and snow garden for children up to 7 which is manned by fully trained staff.
It is not just popular in winter however as the arrival of summer brings with it an explosion of flora and fauna. Breathtaking scenery and good access means the National Park of Sierra Nevada is perfect for enjoying hiking, climbing, mountain biking and everything in between. There are many companies offering guided tours and activity holidays for the super fit to the complete novice. Lanjaron in the foothills of the mountains provides considerable opportunity to unleash the adventurer inside with a variety of rock climbing close by. During the summer months more experienced climbers can venture up to the highest peak (Mulhacen) and enjoy the challenges of canyoning down waterfalls and across streams.
One of the most popular and indeed spectacular places to visit in the Sierra Nevada mountain range is Los Cahorros gorge which can be found approximately 2km away from Monachil. With cliffs, tunnels and gorges, a famous 55m suspension bridge not to mention the waterfalls, this truly is a remarkable place to explore. As for staying overnight, officially camping is not allowed so one must head to an official site or stay in a hotel. There are however various mountain refuges dotted around. Information can be found on the Mountaineering Federation of Andalucia regarding these.
Sierra Nevada is a truly unique region and a great asset to Spain. Previously overlooked in the past in favour of other well known European destinations such as the Mont Blanc, it is fast catching up and becoming more and popular amongst pleasure and adventure seeking tourists.