by Daryl
(South Africa)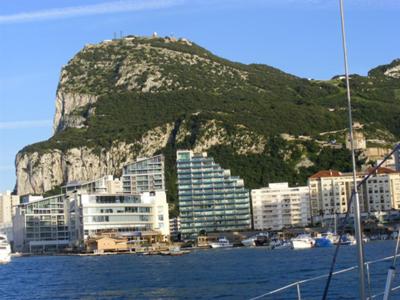 (picture:rock of gibraltar when sailing)
My visit to Gibraltar was slightly longer than the normal 3 or 4 days. We had 13 days to experience what the country had to offer.
I should probably start by saying that we came directly to Gib with a Gibraltar visa and we didnt have the schengen visa to get into Spain. So unfortunately we couldn't venture and see the sights that southern Spain has to offer.
Many people ask the question, where is Gibraltar? If you find Spain on the map, you will see Gibraltar as a tiny spot on the southern tip. Morocco is clearly visable from most parts of the peninsula.
It didn't take very long for me to fall in love with the country. The atmosphere here is amazing and the people form part of a close nit comunity that are very welcoming.
As you can imagine, with the country only covering 2.5 square miles, we had plenty of time to cover all the sites. We were lucky enough to be able to spread our activities up and even had a few beach days relaxing in the sun and catching our 1st tan for the summer.
Coming from South Africa, we love our outdoor lifestyle and Gib fits in perfectly! Being surrounded by water and many beaches (and just about everything else) in walking distance, transport was never an issue.
One of the most memorable activities we took part in was sailing in Gibraltar. Unfortunately we didn't see any of the dolphins that are so common in the area all year round, but that didn't make it any less exciting. Just being out on the water, so close to Africa, Spain and Gibraltar all at once is an experience on itself.
Pictures alone can't explain how immense the famous rock is, but standing under it and then seeing it from the sail boat really left me in awe. The country is very small and then to see that most of it is taken up by the massive rock.
Fishing in Gibraltar was another activity we took part in. I don't know all the ins and outs, but you don't need a fishing license to fish from the beaches in Gibraltar. Apparently this is not true for Spain. With this being the case, fishing in Gib is very popular.
We managed to go fishing twice and both times caught four bream that were big enough for us to get a disposable barbi and cook them on the rocks. What more can you ask for?
One of the popular places that you will be visit a few times is Casemates Square. If the sun is out the square will be packed. This goes from the morning right into the night. We went to Casemates Square for lunch, dinners and then some of the bars are very popular in the evening.
I could go on forever, but I will leave you with just one of the many pics that we took in our time there. If you are in the area then give Gibraltar a visit. There is something for everyone and crime in the country in almost nonexistent, I wouldn't hesitate to bring my kids with the next time I go there on holiday.