There might not be miles of coastline but the Gibraltar beaches have great variety in terms of character and location which gives each beach something to offer. Although small in size Gibraltar is able to offer something for everyone when it comes to beaches.
Starting on the east side Sandy Bay is located at the southern end of the Mediterranean side of the rock. Now a popular retirement spot, the 'Both Worlds' development over looking the beach is mostly occupied by over 50's. The beach itself is not large but adequate enough in size for some activities. During the summer there are usually bbq's in the evenings and don't be surprised to find the odd campfire and sing a long on a calm night.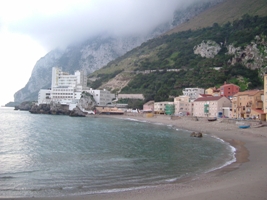 Catalan Bay is a traditional Mediterranean fishing village and was originally home to settlers that did not venture to the other side of the rock. This inviting little village plays host to a stylish hotel 'The Caleta Palace' and several seafood restaurants.
Don't be surprised to find some of the locals going out in their fishing boats as they supply the restaurants with much of their catch.
This beach gets jam packed and is one of the main Gibraltar attractions in the summer months. If you don't mind feeling like a sardine this is the beach to go to.
Eastern Beach has the unfortunate situation of being located right next to the Gibraltar runway so passing planes and fighter jets are a very common occurrence. However, the beach is the largest of the Gibraltar Beaches and provides ample parking spaces and a charming 'chiringito' (beachside restaurant). Here you can find light entertainment in the evenings and the atmosphere is generally relaxed and welcoming.
On the western side of the rock the family orientated areas known as 'Little Bay' and 'Rosia Bay' are popular among those who enjoy and quick dip in the water and an afternoon of card games and socialising. There is no sand here and the pebbled shore front may not be very inviting but if you have kids it's a great place to go because of the playing areas provided for them.
Western Beach was once a small exclusive beach for the British Forces stationed on the rock. However, it is now open to the public and although it is very small the water is always calm and the atmosphere is friendly.
Finished reading about Gibraltar Beaches? Return to Gibraltar highlights