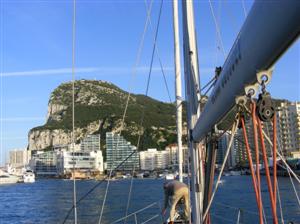 After my first sailing experience last week I can see why Gibraltar sailing holidays are so popular! We were lucky enough to see dolphins on our trip and I will definitely be going sailing around the straits of Gibraltar again.
There are not many better ways to spend your time than being out on the water listening to the wind in the sails.
With over 300 days of sunshine per year Gibraltar is an ideal place to try your hand at sailing. With two modern and well equipped marinas, Gibraltar yacht charters and Gibraltar sailing schools have flourished.
In the warmer months between May and August, the marinas are very active. A large number of the boats docked are privately owned, but there is no shortage of yacht charter boats. Chartering a boat is a great way to experience the thrills of sailing out on the open ocean and knowing that you have an experienced skipper at the helm will help you rest easy.
I still think back to the amazing feeling of being able to cast your eyes over two oceans and two continents all from the same spot. As you leave the marina in Gibraltar you enter Spanish waters and the scenery will leave you breathless.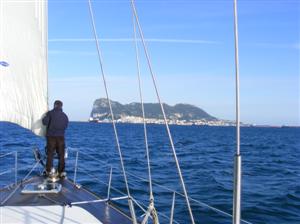 The Rock of Gibraltar creates a wonderful backdrop and a great photo opportunity. Just spinning your head around you will take in the views of Spain, Morocco and Gibraltar. You may already have a mental image of how compact Gibraltar is, but that will be set in stone when you see it from the ocean.
The three species of dolphins are by far the most popular creatures sighted on a sailing trip, but there are an abundance of other creatures spotted on a seasonal basis. Some of these include very large Sperm Whales, Pilot Whales, Killer Whales and Flying Fish.
The body of water surrounding the country is rich in life and the chance of returning without a sighting is very slim. I wouldn't call any trip to Gibraltar complete without a day sailing The Straits.
Return from Gibraltar Sailing Holidays to our Gibraltar Main Page