The annual Feria de Malaga (Malaga Fair) held in August is one not to miss!!!
The annual Feria de Malaga (Malaga fair) or Feria de Agosto (August Fair) as it is also known, is held during the second week of August and gives way to ten festive days of street parties, concerts, music, food and drink.
The fair commemorates the re-conquest of the city from the Moors by the Catholic King and Queen, Fernando and Isabel in 1487.
The fair begins at midnight with an impressive fireworks display which can be seen for miles around, although the best views are from the port area.
From then on, the people of Malaga take to the streets and most will sleep very little during the next few days, enjoying the 'Feria de Dia' (day fair) in Malaga city centre, mainly in calle Marques de Larios during the day, where people of all ages dance to the rhythm of Sevillanas with a cold glass of typical Malaga sweet wine. The streets are all hung with paper lanterns, flags and all kinds of colourful decorations.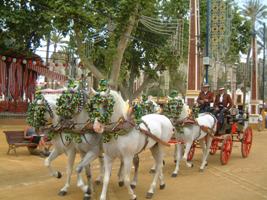 At night, most will go to the fairground, on the outskirts of Malaga, to enjoy the casetas, where food and drink are served and musical acts are performed, and the fairground attractions, including the largest Ferris wheel in the province.
They stay until dawn and then go to a cafe to enjoy churros con chocolate before going home for a couple of hours sleep and then returning to the 'feria de dia' at midday.
Many people also attend the bullfights at La Malaguetta bullring, which attracts some of Spain's best bullfighters to the event.
Millions of people visit the fair every year and it is becoming increasingly popular with tourists, some of whom come to Spain just for the event.
Visiting Malaga fair, by day or by night, is an experience different from any other and one well worth living.
Return from Feria de Malaga to our Malaga City page
Or return to our Fiestas and ferias calendar