It's a shame to miss Andalucia's fiestas just because you didn't know about them! Make sure you don't miss another one with this great calendar of events.
January
1-2 La Toma celebration of the entry of the Reyes Catolicos into the city – at Granada.
5 Cabalgata de los Reyes Magos – Epiphany parade at Malaga
6 Romeria de la Virgen del Mar pilgrimage procession from Almeria.
17 Romeria del Ermita del Santo. Similar event at Guadix.
February
1 San Cecilio fiesta in Granada's traditionally gypsy quarter of Sacromonte.
Mid-month Carnaval is an extravagent week-long event (leading up to Lent) in all the Andalucian cities. Cadiz, above all, celebrates, with great street parades, fancy dress, flamenco and music competitions.
March
5-15 Carnival celebrations at El Puerto de Santa Maria (Cadiz)
Holy Week (Semana Santa) has its most elaborate and dramatic celebrations in Andalucia. You'll find memorable processions of floats and penitents at Sevilla, Malaga, Granada and Cordoba and to a lesser extent in smaller towns such as Jerez, Arcos, Baeza and Ubeda. All culminate with dramatic candlelight processions at dawn on Good Friday, with Easter Day itself more of a family occasion.
April
Last week (approximately 2 weeks after Easter, usually in April, occasionally in May, check tourist office) Week-long feria de Abril at Sevilla: the largest fair in Spain. A Small April fair – featuring bull running – is held in Vejer.
Last Sunday Three-day Romeria de Nuestra Senora de la Cabeza at Andujar (Jaen) culminates in a huge procession to the sanctuary of the Virgin in the Sierra Morena.
May
1-2 Romeria de Nuestra Senora de la Estrella at Navas de San Juan – Jaen Province's most important pilgrimage.
3 Moros y Cristianos ("Moors and Christians") carnival at Pampaneira (Alpujarras).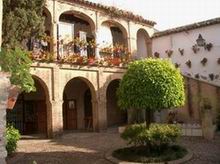 First 2 weeks Cruces de Mayo in Cordoba celebrates the Holy Cross and includes a "prettiest patio" competition in a town full of prize examples.
Early May (usually the week after Sevilla's fair). Somewhat aristocratic Horse Fair at Jerez de la Frontera.
17 San Isidro Romeria at Setenil (Cadiz).
Pentecost (7 weeks after Easter) Romeria del Rocio , when horse drawn carriages and processions converge from all over the south on El Rocio (Huelva)
Corpus Christi (variable – Thursday after Trinity) Bullfights and festivities at Granada, Sevilla, Ronda, Vejer and Zahara de la Sierra.
Last week Feria de la Manzanilla, Sanlucar de Barrameda. Prolonged binge to celebrate the town's major product, which is used to wash down huge quantities of seafood whilst watching flamenco and sporting events on the river beach.
June
Second week Feria de San Bernabe at Marbella, often spectacular since this is the richest town in Andalucia.
13 San Antonio fiesta at Trevelez (Alpujarras) with mock battles between Moors and Christians.
Third week The Algeciras fair and fiesta, another major event of the south.
23-24 Candelas de San Juan – bonfires and effigies at Vejer and elsewhere.
23-26 Feria of Alhaurin de la Torre (Malaga) – processions, giants and an important flamenco competition.
30 Conil Feria.
End of June/early July International Festival of Music and Dance – major dance/flamenco groups and chamber orchestras perform in Granada's Alhambra palace, Generalife and Carlos V palace.
July
Early July The International Guitar Festival at Cordoba brings together top international acts from classical, flamenco and Latin American music.
9-14 Around feast of San Francisco Solano, Montilla (Cordoba) celebrates its annual feria.
16 La Virgen del Carmen – At the end of day on July 16th the towns and fishing villages of the coast parade their statues of her by the water, and set sail in gaily adorned boats, accompanied by the blowing of horns and bursts of fireworks in the night sky. A good place to see this fiesta is Estepona, where the Virgen del Carmen is one of the town's most beloved saints.
End of month Virgen de Mar – Almeria's major annual shindig, with parades, horse riding events, great jazz and Rock concerts and lots of drinking.
August
5 Trevelez observes a midnight romeria to Mulhacen.
13-21 Feria de Malaga – one of Andalucia's most enjoyable fiestas for visitors, who are heartily welcomed by the ebullient malaguenos.
15 Ascension of the Virgin Fair with casetas (dance tents) at Vejer and throughout Andalucia.
15 Riotous Noche de Vino wine festival at Competa (Malaga). Dancing, Singing, endless drinking!
17-20 The first cycle of horse races along Sanlucar de Barrameda's beach, with heavy official and unofficial betting the second tournament takes place a week later.
19-21 Vendinia – grape harvest fiesta at Montilla (Cordoba)
Third Week The Algeciras fair and fiesta, a major event of the South
22-25 Feria de Grazalema (Cadiz)
23-25 Guadalquivir festival at Sanlucar de Barrameda with bullfights and an important flamenco competition.
September
First two weeks Ronda's annual feria with flamenco contests and Corrida Goyesca – bullfights in eighteenth-century dress.
6-13 Celebration of the Virgen de la Luz in Tarifa: prcessions and horseback riding.
7-14 Feria de la Moscatel/Feria de Nuestra Senora de Regla at Chipiona (Cadiz). Includes bullfighting, flamenco, and wine swilling!
First/second week Vendimia (celebration of the vintage) at Jerez.
29-Oct 4 Ubeda's (Jaen) Fiesta de San Miguel with a fair and casetas.
October
1 San Miguel fiesta in Granada's Albaicin quarter and elsewhere, even at Torremolinos.
6-12 Fuengirola's Feria del Rosario – horse-riding events and flamenco.
15-23 Feria de San Lucas – Jaen's Major fiesta, dating back to the fifteenth century.
---
Return from our Fiestas Calendar to our Andalucia Travel Guide homepage