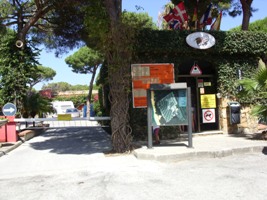 We have just returned from a Tarifa Camping weekend. It was a friends' birthday and we decided to get away.
We were originally going to stay at a hostel in Tarifa but we had left it too late and everything was full!
If going to Tarifa in July or in August always book well in advance! We were told there are people who book the same week a year in advance every year!
When we realised every hostel was full we decided on camping. The last time I went camping I was still young, so I was very excited.
I called one of the many Tarifa campsites to check for availability and they had space so we packed and left Gibraltar immediately.
We stayed at the campsite called 'Camping Tarifa'.
When we got there, the first thing we noticed was how pleasant the people working at the reception were. They were very helpful and explained everything to us, i.e. rules of campsite, prices of taxis to town, told us about the bus timetable to town etc.
The plot we chose was from the A Group which came to about 5€ extra per night. We decided on the more expensive plots because it was slightly bigger and it was closer to the beach.
Total cost for 2 nights came to 32€ per person which we found to be a great deal!
The B plots are closer to the road.
Once we put up our tents I took a walk down to the beach, which was literally a 1 min walk. The beach which is just behind the campsite is called Playa de los Lances.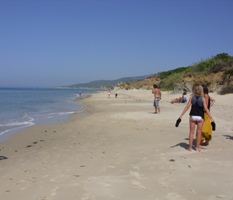 The beach was beautiful and stretched for miles on either side. The wind on this beach wasn't as strong and there were no wind or kite surfing in the area so it was perfect for bathing. However we could see the water sports in the distance.
On our second day of Tarifa camping the wind did pick up a bit after lunch at the beach so we went back to the campsite.
The good thing about the campsite was the pool. The pool (which is a very nice size) is just behind the restaurant and the supermarket so the wind doesn't blow there.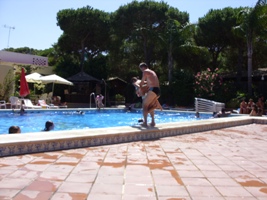 The restaurant had a great selection of food and was very nice, but best of all it was very decently priced.
The supermarket although it was a tiny thing had all the essentials you need for your trip. For us it was mainly bread, cold drinks, crisps and toilet paper (toilets don't have paper so remember to take your own).
Both toilets and showers were very clean and we could see they were cleaned early mornings and in the afternoon.
The campsite is just 10km on from Tarifa town and a very easy trip in. The taxi cost us 11€, which if you are a group of 3 or 4 is next to nothing and if you do not want to catch a taxi there is a bus company which passes right outside the campsite regularly.
All in all I was very impressed with everything!
We have already decided we will be making this trip again very soon, before summer is out.