Sardinas al Espeto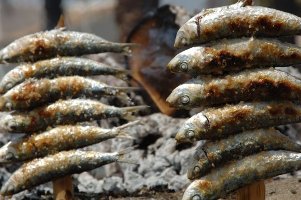 Literally translated this means skewered sardines and as any local will confirm, now is the ideal season to enjoy a plate of sardines cooked on the spit.
The preparation is simplicity itself.
When preparing sardines, care must be taken when inserting the skewers. These should be inserted without breaking the bone so that the fish doesn't break apart when put on the fire.
The fresh sardines require no cleaning or gutting and should be inserted on the skewer whole.
While roasting over the open fire garnish with sea salt to preserve all of the flavour and properties.
Once cooked, squeeze fresh lemon over the sardines in order to increase the flavour.
Return to see more Spanish Food Recipes