Ingredients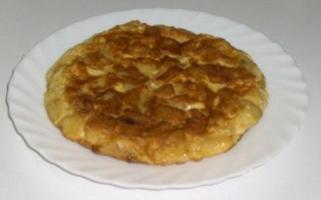 4 medium potatoes
3 large eggs
oil for frying
salt to taste
Method
Peel and dice potatoes, wash and fry in oil until tender. Remove from oil and drain on paper towel.
Cover bottom of medium sized frying pan with oil and heat.
Meanwhile beat the eggs in seperate container and add the cooked potatoes.
When the oil is hot add this mixture to frying pan. Cook for a few minutes on medium heat shaking the frying pan from time to time so that the mixture doesn't stick.
Remove pan from heat and cover with a large plate.
Whilst holding the plate onto the frying pan, deftly flip the pan over so that the tortilla is on the plate (it should be nicely browned).
Next, slide the tortilla back to the frying pan having added more oil if required.
Cook for another few minutes and then slide onto a plate.
Cut into wedges to serve 🙂
Return to see more Spanish Food Recipes