Estepona can be found west from Banus in the Malaga Province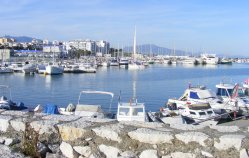 In recent years Estepona has emerged as one of the Costa Del Sol's most important tourist attractions and will have an important role to play in the area's continued development. .
This great town is dominated by the impressive backdrop of the Sierra Bermeja mountains and this privileged position between the mountains and the coast allows visitors and residents alike to enjoy a wide range of activities.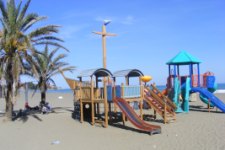 The beaches consist of several kilometres of pristine, golden sands and the Sierra Bermeja abound with leafy forests.
Some of you might be glad to here that some beaches also have great little areas for children. Andalucia always has great things for kids 🙂
However, other than having slides and fun stuff for kids, there are also various beach bars (chiringuitos) along the tops of the beaches.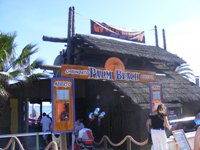 When coming to this coastal town it provides a great chance of savouring spanish cuisine with a huge variety of estepona restaurants.
Its near perfect year round climate has been seized upon by individual sportsmen and clubs from overseas who use the area for their pre-season training and preparation for major sporting tournaments.
Estepona is a municipality with an important and interesting history extending from pre-historic times through to the Roman settlements with existent ruins at the mouth of the Guadalmansa river.
Its origins stem from the rule of the Caliphate of Cordoba in the 10th Century with the founding of the town of Estebbuna. During the Reconquista, in 1456, the town was reconquered by the Christians in the name of the King of Castille who then proceeded to torch the place completely destroying it in the process.
In the 16th Century, the Catholic Majesties realizing the areas valuable strategic position ordered the town to be re-built and under the Reign of King Felipe V in 1729 it received municipal status.
Today the municipality covers an area of approximately 130 Kilometres square most of which consists of rolling hills.
Lovers of nature and the outdoors enjoy the abundant open spaces with numerous footpaths on which to discover the towns beauty.
This natural beauty with its forests of Spanish Fir has prompted the Junta De Andalucia to declare the area a Nature Park.
is in addition to the Parque Natural Los Pedragales which borders La Sierra Bermeja where visitors can take advantage of the available rustic lodges and cabins and visit the Capilla De San Isidro Labrador where the residents celebrate an annual pilgrimage and fiesta in honour of the towns patron saint.
It has evolved into an important community very popular with foreign residents have have chosen it as a place to make their home.
They have become part of the fabric of the towns' society and join in the traditional events such as Semana Santa, the pilgrimage of San Isidro and the Virgen Del Carmen celebrations where the local fishermen display their devotion to their patron saint.
Do you think you will enjoy visiting Estepona? Why don't you book room in Estepona