Our trip through Tabernas
From Nijar we took the AL-3107 towards Lucainena de Las Torres, a small white village located in the midst of La Sierra Alhamilla.
This is a wonderful scenic route through the desert which has been the setting of many spaghetti westerns since being discovered in the 1960's.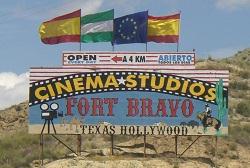 Five kilometres further on from Lucainena de Las Torres we turned West onto the N340 heading towards Tabernas.
A small sleepy village surrounded by desert scrub-land and dominated by an impressive Nazari castle. Declared of Cultural Interest on the 22nd April 1949 it is an imposing structure which unfortunately has been allowed to fall to ruin.
Further on the N340 you have Texas Hollywood, www.fortbravo.es the location for several western films which includes an Indian wigwam village Fort Bravo, a US Cavalry frontier fort and a Mexican town. They run daily shows at 1730hrs and 1930hrs and costs adults 10.50 Euros and children 6.50 Euros.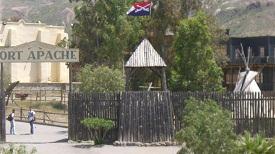 Still on the N340 you'll find Oasys Mini Hollywood, a theme park which the kids will love.
Open in July-September 10.00hrs to 22.00hrs, October- June 10.00hrs to 19.00hrs. Entry costs 16 Euros. (Daily shows 12.00hrs, 17.00hrs and 20.00hrs).
The theme park has a full western town with Indian village, a small swimming pool area and wildlife zoo. You have restaurants, coffee houses, ice-cream parlour and burger bar.