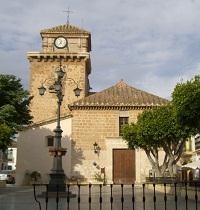 Our stay at Nijar
Just over 30 Kms North-West of Almeria Capital on the A7-E15 motorway you come to the junction of the AL-3107 road which leads to the small inland village of Nijar.
The town consists of one main avenue running along its entire length called Avenida Federico Garcia Lorca.
This is the commercial centre with numerous shops selling pottery, woven clothing and Jarapas (hand woven rugs). Parallel to this runs La Calle Eras in the Barrio De Los Alfareros (potters) where several small workshops are open to the visitor.
The whole area is extremely clean and well maintained showing the resident's civic pride in their town.
At the very top of Avenida Federico Garcia Lorca you come to La Calle del Parque where the tourist office is located.
Continue along this road until you reach La Plaza de la Glorieta where the church and the Ayuntamiento are located. This small square has two tapas bars where you can sit on their terraces with a cool drink watching the villagers going about their daily lives.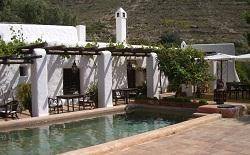 La Iglesia Parroquial de Santa Maria de la Asuncion was built in the 16th and 17th centuries, although small, it is nice to visit.
Whilst researching the Province of Almeria we stayed at a casa rural called Cortijo La Alberca located on the Camino de Huebro which leads off La Plaza de la Glorieta.
The Cortijo consists of eight small casitas each with their own private terrace. The casitas are small but adequate with a bedroom/sitting area and a complete toilet/shower room. This cortijo is geared towards visitors seeking peace and tranquility; consequently there are no televisions in the casitas.
The design of the complex is Arabic in style with the tinkling sound of running water throughout the common areas. Our terrace was south facing with plenty of shaded areas planted with orange, lemon, and fig and almond trees.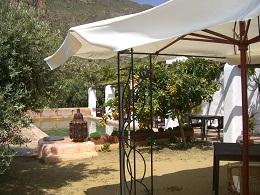 The cortijo is nestled between two mountains and the views are panoramic but somewhat spoiled by the vast sea of plastic greenhouses stretching along the valley.
The owner Johannes and his trusted assistant Mustapha were attentive to every detail you might require.
They will go the extra mile to make their guests feel welcome and indeed like part of the family. The breakfast was included in the price of the room and was delicious and plentiful. You will be hard pressed to find a similar breakfast anywhere.
We had an evening meal at the cortijo and found it adequate but overpriced, but this was the only minor negative in our whole stay.
Nijar is small and nightlife is practically non-existent, however we did find an excellent Spanish restaurant called Pata Negra on Calle del Parque. Tel 950 612 238 or mobile 651 840 159. The owner Juan Antonio Segura is the perfect host and ensures that the service is personal and friendly where he, together with his staff take pride in their work.
It is fully air-conditioned with 40 covers. There is an excellent selection of meat and fish dishes and the wine list is extensive and well priced. I would recommend you try a tapa of smoked tuna over goats' cheese and honey served on crusty bread. It's delicious.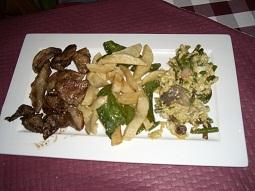 As a starter we had Patatas de Nijar a la Paisana. Good simple country fayre with chunks of tender meat served on thick sliced potatoes with green peppers, onions and olive oil. Although it was a starter I would order one to share with someone else as the quantity is more than ample.
As a main dish we had Solomillo Iberico which was tender slices of grilled steak with a Revuelto de Gambas (scrambled eggs with prawns, fresh asparagus and mushrooms). Including drinks and liquors the bill came to 25 Euros per head.