Sitting in a spectacular sheer cliff, Arcos de la Frontera is a picturesque town full of reminders of the Arab period.
It was the Arabs who founded Medina Ar-Kosch as a defensive strong-point.
This inheritance has left a pattern of steep, narrow streets on a rocky promontory with the river Guadalete winding at its feet.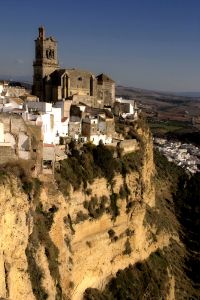 Arcos de la Frontera is a very striking Andalucian white village (pueblo blanco), which is dramatically situated on top of a very steep, sheer cliff.
At the bottom of the cliff you will find the Guadalete River, which is lined with olive and orange groves.
The historic centre stretches from the old town, up the top of Cuesta de Belen to the Puerta Matrona. The new town is found on the lower slopes of the ridge.
The old town is a labyrinth of narrow alleyways with its heart being the paved Plaza de Cabildo.
On the right is the Parador which is reputed to be the former palace of the Governor and on the left is the city hall below the 11th century Moorish castle, El Castillo De Arcos.
The visitor will be thrilled with the spectacular views over the town and rolling countryside.
Directly in front is the church of Santa Maria which was built in the 13th century after the Moors were expelled. This church as many others in Andalucia was built on top of a mosque and indeed a sect of Islam still make the pilgrimage to this area every year.
Completing your circle around the church, turn left into Calle Escribanos. Continue straight until you arrive at the second church, Iglesia San Pedro.
Just beyond the church is Galeria De Arte San Pedro with artisans in action doing their paintings and pottery.
For those of us who enjoy good food, you will find all types of tapas bars in the old town but if you prefer somewhere more up market pop into Restaurante El Convento on Calle Marques De Soto. This extravagant restaurant includes game dishes on their extensive menu.
During the evenings, the residents begin their leisurely walks around town culminating at the central plaza. Join in and enjoy a tranquil pace of life.
Arcos is a good base from which explore the Ruta de Pueblos Blancos (white village route), including towns such as Ubrique, Medina Sidonia or Vejer de la Frontera
Finished reading Arcos de la Frontera? Return to Cadiz Province mainpage