Ubeda, Jaen, Andalucia
Known as the capital of the Andalucian Renaissance, this town stands on a hill near the valley of the Alto Guadalquivir.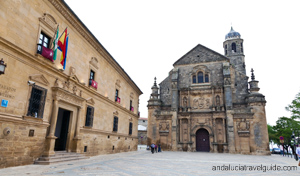 Arab Ubbadat was founded in the 9th century, the period when its walls were built. In its time it became one of the most important towns in Al-Andalus.
The Christian armies made several attempts to take the town succeeding in 1234 under King Fernando III el Santo (the saint).
Its old town, declared a historic-artistic site, houses a splendid legacy of monuments including palaces, aristocratic houses and churches.
Plaza de Vazquez de Molina
This square stands out in the middle of Ubeda's whitewashed houses and is the heart of the town forming a superb Renaissance site. Presiding over the square is La Capilla del Salvador. The magnificent doorways are outstanding.
Your tour through this town will provide you with a wealth of historic buildings to visit with literally every corner housing a palace or a church. Indeed it is fair to say that Ubeda has an abundance of churches comparative to its size.
Behind La Plaza Velasquesis situated La Redonda de Miradores which allows the visitor a panoramic view of the guadalquivir basin and the Sierra Magina