Pollo al Limon (Lemon chicken)
Ingredients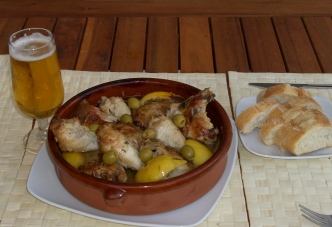 2 onions sliced
6 garlic cloves unpeeled
1 small lemon cut into thin wedges
250ml of white wine
8 pieces of chicken
Olive oil
100g pitted green olives, drained
small bunch of flat-leaf parsley, roughly chopped
Method
Put the onions and garlic into a frying pan and fry in the olive oil over a medium heat until golden brown.
Transfer to an oven proof dish or casserole and in the same oil brown the chicken pieces. Place the chicken on top of the onions and garlic, pour in the wine and put in the lemon wedges.
Put in the oven for twenty minutes at 180 degrees.
Add the olives to the casserole and finish off by sprinkling the parsley over the dish.
Serve the chicken with sautéed potatoes.
Return to see more Spanish Food Recipes