Ingredients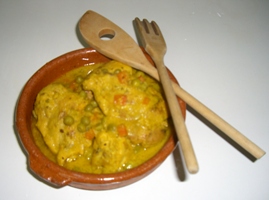 Olive oil
6 Chicken portions
1 small onion
2 Carrots
1 bay leaf
3 cloves garlic
nutmeg
parsley (fresh or dry)
salt and pepper
50grms ground almonds
1/2 pint dry white wine
1 sachet powdered saffron
Method
Remove skin from chicken, wash and pat dry on kitchen roll. Place on a dish and sprinkle with nutmeg, salt and pepper, chopped parsley and finely chopped garlic. Cover with foil and place in fridge for at least 1/2 an hour.
Pour some olive oil in a large frying pan, enough to cover the bottom. Brown chicken pieces in oil and transfer to pot.
Add finely diced carrots and onions to oil in frying pan and cook gently till softened.
When this is done add saffron, ground almonds and wine and stir thoroughly. Add this to chicken in pot. Cook over medium heat until chicken is tender.
Add more liquid as needed (either more wine or water). Sauce should be fairly thick. Frozen peas may be added five minutes before the end of cooking.
Return to see more Spanish Food Recipes