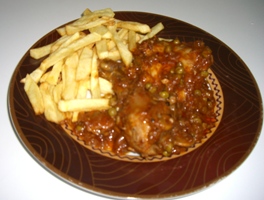 Ingredients
Chicken portions
1/2 onion
2 cloves garlic
1 bay leaf
1 glass of dry white wine
400gms tin of tomatoes
sliced mushrooms
1/2 cup frozen peas
olive oil
Method
Pour olive oil into pot, enough to cover base.
Add chopped onions and bay leaf and fry till softened but not brown. Add garlic.
Next add chicken portions and lightly colour on both sides.
When this is done, pour in wine and when the alcohol has evaporated, add tomatoes.
Cover and cook gently for 30 minutes. Add mushrooms and peas. Cook for a further 15 minutes and serve with chips or mashed potatoes.
Return to see more Spanish Food Recipes