No matter how old you are, or what you like to do during your holiday, Fuengirola nightlife will certainly reach your expectations.
Monuments, museums and theaters are only a little part of the attractions, while Fuengirola nightlife is probably the best reason why you should choose this destination for your holiday. After the sun goes down, the action moves on to the seafront promenade, filled with bars and discos ready to offer you a night that is going to be hard to forget.
For those who like to grab a drink and just listen to some good music, Fuengirola has a lot of music bars, most of them opened until morning. Situated near the port, Linekar's Bar is known as the largest bar in Fuengirola. With cheap drinks, loud music and great atmosphere, it attracts customers of all ages, whether they come for the DJs or for the football matches, which are broadcasted live on large screens.
If you would like to dance on the newest hits, the perfect choice is London Pub, which also has a nice outdoor terrace, in case you only want to sit for a drink with your friends.
Other great places for a drink are Savi's, with his comfortable bamboo seats and tables or Star, a small, cozy bar with varied music and great atmosphere. If you get hungry, you must go to Moochers Jazz Café & Restaurant where you can eat the best pancakes ever, while listening to good-quality live music.
The discos in Fuengirola attract mostly young people looking for a night long groove. Most of the European tourists prefer Heaven's Gate, while Millenium Disco is the choice of those who want to listen to latest UK music. You're wrong if you think there are not places dedicated to "oldies" fans too. The best example is Maxi's Disco, where music from sixties and seventies is played, including Bob Marley mixes.
Last but not least, if you want your holiday to be really memorable, you should go to the Fuengirola zoo for a 'moonlight visit', as the zoo stays open until 1 am. You will have the opportunity to admire leopards, flying foxes or porcupines and then to walk through the lit forest paths and have a meal at a zoo-themed restaurant.
All in all, Fuengirola nightlife is suitable for each member of the family and the town itself is an important touristic attraction which you don't want to miss.
Return from Fuengirola nightlife to Fuengirola Tourist Information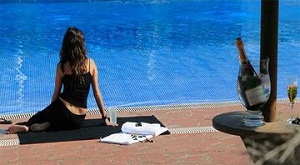 Myramar Castle Beach Hotel Fuengirola