Fuengirola Tourist Information – The Low down On Fuengirola
If you are planning a holiday to the Costa del Sol and are looking for a place to base yourself in which you can find everything right on your doorstep, then you may want to consider Fuengirola.
Situated just 18kms from Malaga airport and just 30kms east of Marbella, it offers a unique package of urban and beach living complete with plenty of attractions. Fuengirola has so much to offer and as a result makes it a great holiday destination for families with children.
Fuengirola as a town is a good mix between old and new. On the one hand you will see all the tourist trappings, such as stunning blue flag Fuengirola beaches (all 8kms of them), palm lined promenades, and endless attractions. However if you strip back the layers you will see a quaint little friendly fishing town that has still kept it's Spanish feel and in many ways this is what makes it so appealing to visitors. In essence Fuengirola is what you want it to be and more besides.
It is fair to say that Fuengirola beaches are amongst the finest on the Costa del Sol, if not Spain as a whole, and as a result it's no wonder why over 15,000 ex pats choose to make their homes here.
Los Boliches, Carvajal, Gaviotas, Santa Amelia, San Francisco and Castillo beaches all interconnect via a palm fringed walkway and for anyone who walks down the promenade, they are likely to find their senses accosted with smells of 'sardines espeto' (sardines on a spit) being cooked up by a string of beach side Chiringuitos all vying for custom. In addition to the myriad of beach side bars and restaurants, the beaches themselves have excellent facilities meaning that you won't have to leave the beach all day if you don't wish to.
The Town itself
When it comes to attractions, Fuengirola has plenty to choose from. Whether it be a day at Fuengirola zoo, or a trip to the Moorish castle which offers great views of the town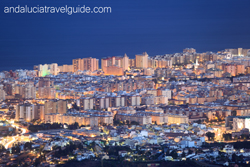 there are things to see and do for all ages.
If you fancy grabbing yourself a bargain, the Tuesday flea market is the largest of its kind anywhere on the Costa del Sol or alternatively there's the Miramar shopping complex. With over 160 shops you can shop till you drop. In addition it has a variety of restaurants a multi screen cinema complex and a play park for the kids.
If you prefer your holiday to be a little more cultural, then why not pay a visit to the Roman Baths at Torreblanca, the Arab castle in the town, the outdoor museum and the plethora of art exhibitions. There is always something going on no matter what time of the year so be sure to make the most of it.
Fuengirola also has a great port where you can take sailing charters from, or alternatively sit and watch the world go by with a glass of something long and cold in one of the many port side bars. Alternatively if you are into golf, then the town boasts two of the finest golf courses in Los Lagos and Los Olivos.
Eating out
When it comes to eating out you are spoilt for choice with just about every nationality catered for. Whether you fancy, Chinese, Indian, Italian, Moroccan, Lebanese or British cuisine you can be sure to experience it here. In addition, there are many Spanish bars and restaurants offering a choice of foods from rustic style tapas and Menu del Dia's (menu of the day) through to fine dining establishments. Because there is a wide diversity of cultures living here, it is reflected in the food and this means that the choice is endless.
Whether you come here for the blue flag Fuengirola beaches or the multitude of attractions, Fuengirola makes for a perfect spot in which to base yourself for a week or two in the sun.
Return from Fuengirola Beaches to our Costa del Sol page
Return to our Andalucia Travel Guide homepage