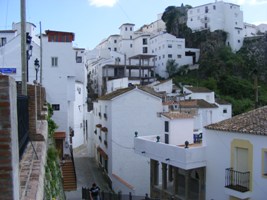 Casares is a picture postcard village which sits on a hilltop between the Ronda mountains and the Costa del Sol.
Its unique beauty earned it the status of a site of artistic and historic importance.
Legend has it that its origins date back to Julius Ceasar who ordered its construction in gratitude for having been healed in the nearby waters of La Hedionda of a skin complaint during his period as Governor of southern Spain. Los Banos Romano La Hedionda or the Hedionda Roman Baths is located in the Hedionda valley just behind Manilva.
Outstanding among Casares's historic sights are the ruins of an Arab castle.
Approximately 1400 feet above sea level the old castle and a derelict church will provide visitors with panoramic views over the surrounding countryside and village rooftops. The ruined church Iglesia De La Encarnacion was built in 1505. It remained in use until 1845 and during the Civil War 1936-39 the building was badly damaged by Anarchists.
Today it remains locked and deserted. Near the church is La Hermita De Vera Cruz. Three of its four bullet pitted walls are still standing. During the savagery of the Civil War it was common practice for factions to dispose of their enemies by hurling them still alive into the deep gorge below. A simple iron cross marks and remembers the site of this atrocious event.
In the square you'll find the statue of Blas Infante who was born in Casares on July 5th 1885.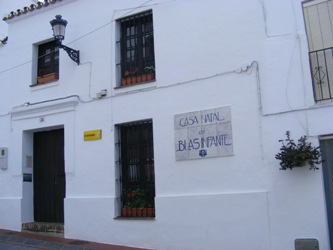 Known as "The father of Andalucia", in 1936 he was proclaimed President of the New Assembly of the Autonomous State.
His ideals quickly fell foul of the Fascists under General Franco and he was imprisoned during the Civil War. In August 1936 he was arrested by The Falange and shortly after that same month was executed.
The house where he was born is still standing and today has been turned into a museum.