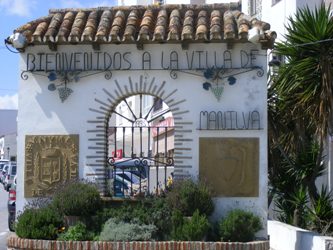 Manilva is surrounded by scores of vineyards. Every available parcel of land has been given over to the cultivation of grapes for which this town is famous.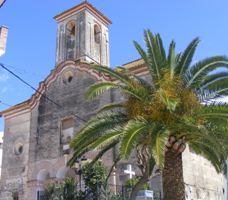 Although small, it is worth a visit with the towns' focal point being its church. Situated in Plaza Iglesia, the church was constructed in the late 18th century by master builder Don Felipe Perez, the funding being provided primarily by the Duque De Arcos.
The current building lies on the site of a previous smaller chapel. Typically of Spain, the church forms the focal point for many of its' festivities such as Semana Santa and the Vendimia which celebrates the towns grape harvest.
A short distance from the main street, Calle Mar, is the towns' water fountain which in days gone by was the towns' main water supply.
Behind the fountain is the old town hall building which is still used today as council offices.
Venture past the current town hall onto Circunvalacion La Pedreta, sometimes called "El Balcon De Manilva". This road skirts the eastern side of this white village and will offer the visitor extraordinary views of La Costa Del Sol, Sierra Bermeja, Casares and Sierra Crestellina.