Ingredients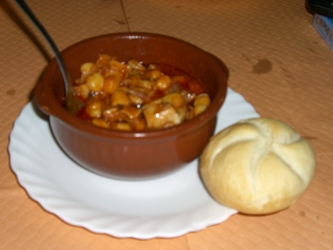 1 kilo of tripe
2 cloves of garlic finely chopped
1 tablespoon of paprika
1 small bunch of mint
1 small bunch of parsley
2 chorizos
1 piece of black pudding
1 piece of pancetta or tocino
2 chopped tomatoes
1 pig's trotter (ask butcher to cut in four)
300 grms of pre-soaked chickpeas
10 peppercorns
a dash of olive oil
salt to taste
Method
Soak the chickpeas in water overnight.
Wash the tripe thoroughly and cut into small pieces.
Put olive oil and warm water in pot, then add the tomatoes, garlic, paprika, mint and parsley.
Cook for a couple of minutes, then add the chickpeas, tripe, chorizo, morcilla, pig's trotters, peppercorns and the pancetta finely cut.
Cook for at least an hour over a medium heat. Ensure that all the ingredients are thoroughly mixed so as to get an infusion of flavours.
Salt to taste and serve hot.
Return to see more Spanish Food Recipes