Calamares con Arroz
Ingredients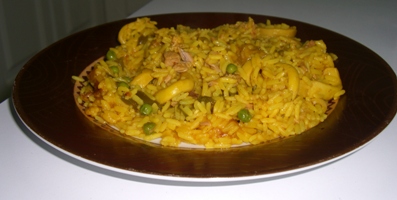 1kg squid rings
1 green pepper
1/2 small onion
4 garlic cloves
2-3 tbsp tomato sauce or 1-2 tsp tomato paste
1 bay leaf
1 stock cube (fish or chicken)
1 sachet powdered saffron
salt and pepper
2-3 cups of longrain rice
olive oil
1 glass of dry white wine (optional)
Method
Rinse squid rings thoroughly in plenty of cold water.
Remove any of the plasticky bits which might still be attached to them. Drain in colander and reserve.
Pour some olive oil in large pan, enough to cover bottom.
Cut onion and green pepper into small dice and put into pot together with bay leaf. Cook over medium heat until softened, do not brown.
Chop garlic finely and add to pot.
Stir with a wooden spoon for a few minutes then add tomato, saffron, stock cube and white wine. Season with salt and pepper.
Add squid rings. Increase heat and when bubbling lower heat and cook for about 15 minutes, adding water if needed.
At this point add rice to the pot and stir. Add boiling water to cover and cook over medium heat, topping up with more water as necessary.
After 20 minutes taste a grain of rice, It should be soft on the outside and slightly hard on the inside.
Remove from heat, cover with lid and leave for 5 minutes before serving.
Once on plate, squeeze some lemon juice over and enjoy.
Return to see more Spanish Food Recipes