Just today we decided to take one of the famous Rock of Gibraltar taxi tours.
I had always seen the taxi drivers offering to take tourists up the rock when I was walking down Main Street, however being a local didn't think it worth the money.
We all have our cars here and just take the drive up the Rock whenever we fancy it.
However, my in-laws were here and it was too hot to go in the Cable Car and walk down, so we thought we'd give one of the rock tours a go.
I was not disappointed!
I think we were very lucky and got one of the best taxi drivers. The guy who drove us around told us loads of history and interesting facts all the way. He was funny and engaging.
I could see that when we stopped at some of the sights, the other taxi drivers would stay with their cars, where our driver would come with us and explain what we were seeing.
Pillars Of Hercules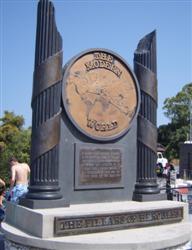 He took us from town, up the rock to what is known as Jews Gates, which is the entrance to the Mediterranean Steps and has some amazing views to North Africa and across to Spain.
This spot is also the location of the famous Pillars Of Hercules Monument, which is shown in the picture.
We then carried on up to St Michaels cave, at which point he let us go for a wonder around to take it all in.
After the cave we carried on up to one of the Gibraltar Apes' Den, where they are fed by the ape keepers. Always remember if you are visiting our famous Gibraltar Monkeys that you should not feed them as it can result in a £500 fine. Although if you are eating something do not be surprised if they jump up and take it from you!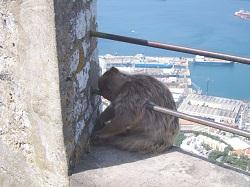 I personally am a bit afraid of the apes and try to avoid them whenever I am up the rock, however I was feeling brave today and left the comfort of the taxi. Our driver was very good and always made sure the apes were behaving and driving up there everyday 3 or 4 times/day they did seem to recognise him.
I felt very safe around them.
Once we had finished hanging out with the apes we went to the Gibraltar Great Siege Tunnels. Again on our way there our driver explained all about the tunnels, telling us all the useful facts about when, how and by whom they were built.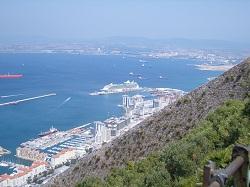 Once out of the tunnels we chilled a bit up the top, enjoying the views, and saw a plane leaving Gibraltar Airport. This is an experience in itself because you can see the tiny size of our runway!
Our driver told me that he had taken a course given by the Gibraltar Tourist Board and whenever he has a chance he reads up as much as he can about the history and myths surrounding our Rock of Gibraltar.
All in all I do not regret taking this tour, it has been a very enjoyable morning!
I do not know what the other taxi drivers will be like but I can definitely recommend Paul Del Mar!
You can contact him to arrange for a rock of Gibraltar taxi tour on:
Tel: (00350) 5401 6329
Or
[email protected]
If you do contact him please mention that you got his details from us here at andaluciatravelguide.com. I told him how happy we were with the tour but in this way he will know that I was serious 🙂
He works hard at making sure his customers are happy when it ends and asks for advice on how he can better his Rock of Gibraltar taxi tour and in my opinion, this is the best way to be a good tour guide!
The price for the tour is £22 or 25€ per person and includes the taxi ride plus the entrance to the caves and to the upper rock nature reserve.
Return from Rock Of Gibraltar Taxi Tour to our Gibraltar Mainpage