Bolonia is a tiny village 20 km from Tarifa. It has a very laid back feel to it, and makes you feel at ease as soon as you arrive.
One of the main tourist attractions are the ruins of Baelo Claudia. Here there are quite a few remains including that of a theatre, temples and workshops. The ruins are quite remarkable.
Bolonia Beach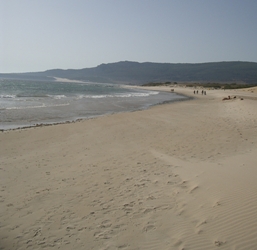 This beach is one of the most beautiful and unspoilt beaches I have come across in Andalucia.
It will get more visitors on a Sunday but is mostly very quiet. It is not as well known as Tarifa and therefore much more relaxed.
It also gets kite surfers as the same strong, Levante wind that occurs at Tarifa is present.
Walking along the beach, well past the kite surfing area you will come across some coves. These coves have been designated as naturist beaches. So for those of you who would like a full body tan, head to these.
---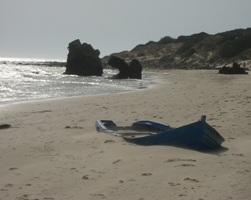 There are a few hostels and a few restaurants here and the ones I have tried are very reasonably priced.
There are some very nice open-air restaurants right on the beach, where I would advise you try some seafood.
If you are looking to party and shop do not come here. However, if what you are looking for is a beautiful white, sandy beach to lay back on and relax, Bolonia is the right place for you.