For many years now the Gibraltar restaurants & shopping have attracted thousands of British expatriates living on the Iberian Peninsula seeking to stock up on British products unavailable on the Costas.
The shopping Gibraltar has to offer has expanded it into the shopping Mecca for the Western Mediterranean. Given its position this is hardly surprising as for centuries, The Rock has existed as a trading community.
These days, it is appreciated not just because of the quality and choice of products available, but also because goods here are sold duty free. This makes items such as tobacco and alcohol extremely cheap.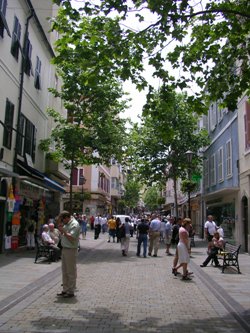 The city centre is long and narrow, extending the length of Main Street. Much of this bustling high street has been pedestrianized as part of an overall city plan to beautify the Rock and create a pleasant environment for both visitors and residents alike.
Pavement cafes and bars offer a little welcome relief for weary shoppers, and this is required after visiting the numerous well known high street chains and curious little shops selling everything from Chinese linen to designer sunglasses.
If you can spare the time during your visit enter the Gibraltar Crystal Factory, located at Casemates Square where you can purchase exquisite crystal which you can watch being produced on the spot.
Also to be found are a number of electrical/audio-visual equipment retailers, cigarettes, imported cigars and spirits are in abundance. Indeed the huge assortment of products from gold to porcelain to watches and much more are available.
Running parallel to Main Street is the similarly pedestrianized Irish Town with its historic coffee houses, bars and attractive Gibraltar restaurants. You can find all types of cuisine here including Indian, Chinese, Moroccan, Argentinean, Japanese, Kosher and all European from Spanish, French, Italian, English etc.
The young crowd need not fear either. There is no shortage of the regular fast food chains to keep the kids happy should they not be up for the restaurant environment.
There is no shortage of places to go in the evenings. Hotel cocktail bars offer comfortable and sophisticated surroundings for a quiet drink, or not so quiet, jazz performance or other live bands.
Every street has wine bars and cosmopolitan pubs, a large proportion of which have live music. Into the small hours you can have a flutter at the casino or dance the night away in several disco pubs and nightclubs.
During the summer months Casemates Square is the venue for live music and entertainment and these events are well supported and attended by both residents and visitors.
Most recently competition for Gibraltar entertainment has increased. The fabulous Ocean Village now competes with Casemates as "THE" summer location. With some luxury apartments, 5 star gym, and a number of different bars and restaurants and let's not forget the brand new Casino it will definitely be the place to be seen this summer.
Both the O'Callaghan Eliott Hotel and the Bristol Hotel are perfectly positioned for a nice shopping holiday due to their closeness to the trading district. Check out our Gibraltar Hotels page for available bookings.
Return from Gibraltar Restaurants & Shopping to the Gib Main Page