We have finally made time to work on Gibraltar Map. Google has pretty much the best map engine around with great detail and different views.
After taking a look at the map of Gibraltar you will really begin to realise how small a 2.5 square mile country is. An interesting point of note on the map is the Airport of Gibraltar. Notice how the runway stretches from one side of the peninsula to the other.
Only experienced pilots are given the Gibraltar route. The runway is very short and ends in the ocean. On windy days the planes are sometimes redirected to nearby Malaga or Morocco airports.
Just above the airport you will see the border between Gib and Spain. If you navigate south from the map of Gibraltar you will see how close the country is to Africa. Most days Africa is visible from many places on the Rock.

View Larger Map
Flag of Gibraltar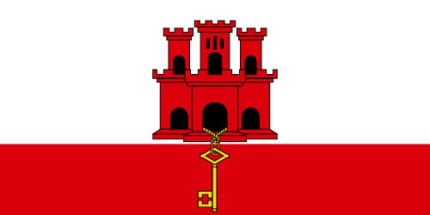 The flag of Gibraltar has been in use since 1982. It consists of a white and red background with a castle over the white and a gold key hanging over the red.
The castle is said to signify how solid the country has stood over the centuries after all the battles the country has withstood.
One of the places you will see the flag flying proud is on the very top of the Rock of Gibraltar. The locals in the area often use the flag to tell how windy it will be down on the beaches and where the wind is blowing from before they leave home.
Return from Gibraltar Map to the Gib Main Page
Return to Andalucia Homepage