Capilla Real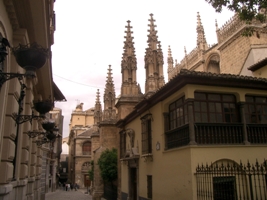 Undoubtedly the most outstanding example of Christian architecture in Granada, the Capilla Real is located right in the centre of the city of Granada.
The 'Royal Chapel' was a purpose built mausoleum for the monarchs Isabel and Fernando who actually commissioned the work themselves. The monarchs are seen as the most responsible figures behind the unification of Spain after the invasion of the moors. The conquest of Granada was a huge victory and along with it the expulsion of the Jews from Spain under the Alhambra decree.
Built in an extravagant Gothic style the chapel was not completed in time for their deaths and work continued for several years after. Luckily the work was not rushed and when the monarchs were finally laid to rest it truly was fit for a king, and queen!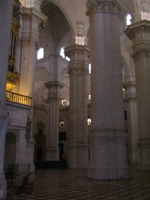 For anyone visiting the chapel and the adjoining Cathedral the amount of gold imagery is startling. As with most Christian places of worship the use of gold is a major feature and the use of it here almost lavishly out of control.
However, as you make your way around the structure you get the feeling that you really are in a special place. Being dwarfed by huge pillars that could be the foundations of heaven and enjoying some of the best religious art in Spain can't be all that bad can it!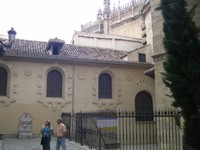 Visiting the Capilla Real and the Cathedral is very easy and the crowds tend to flow at a good pace. Do not worry about booking in advance as it is mostly a walk in trade. The only disappointing aspect is that there is a fair chance of being constantly harassed by the local gypsy's who try to sell "lucky leaves" to everyone. The best thing to do is to ignore them or say "No Gracias" (No Thank you), also keep an eye on your belongings, they have quick hands!
Finished reading about the Capilla Real? Return to Granada highlights