It is fair to say that the Puerto Banus area of Marbella isn't exactly what you would call understated, but in all fairness it was never supposed to be.
Right from the off, when it was designed and built back in 1970 it was constructed as a luxury marina and shopping complex and it continues to be the playground of the rich and famous even today.
Puerto Banus was named after the architect Jose Banus who designed it, and is situated just 6 kms from the centre of Marbella. The area is protected by a coastal mountain range known as the 'Cordillera Penibetica' which means that it enjoys its own particular micro-climate.
In other words it's reasonably cool in the long hot summers that this part of the world is known for, and in the winter it stays mild. In fact the mean temperature of the year is around 18 degrees Celsius.
Marina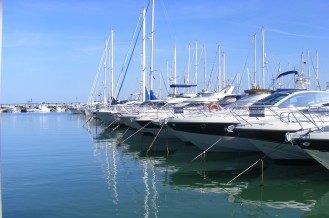 Around 5 million people pay a visit to the area every single year and they come mainly from Northern Europe and also countries such as Kuwait and Saudi Arabia. The main focus of attention is around the marina area where it holds berths for around 915 boats.
This includes some pretty impressive super yachts moored here by some of the wealthiest individuals in the world. The marina itself covers around 150,000 square metres (37 acres) and the depth of the harbour is around 6 metres with the marina entrance being around 7.5 metres.
Visitors to Puerto Banus can walk along the promenade with the Marina on one side and shops, bars and restaurants on the other. As well as gazing at a myriad of super yachts, you are more than likely to see a selection of super-cars here too and you may want to see how many Lamborghini's and Ferrari's you can count.
One of the best things to do is to find a cafe bar of which there are many along the port front, take a ringside seat and order a 'cafe con leche' or a glass of something cold. Then just kick back and watch the people go about their daily business.
Shopping
If you like shopping (particularly the designer kind) then you are in luck. Just behind the Marina is the main shopping district and here you will find shops such as Christian Dior, Louis Vuitton, Bvgari, Versace and Dolce and Gabbana and even if you can't afford the designer prices, the window shopping certainly worth doing.
In Antonio Banderas square, you will find El Corte Ingles. Spread over 6 floors this is one of the largest department stores in Spain and is the equivalent of Selfridges or Harrods in the UK. You can buy just about anything and everything, from designer fashion such as Burberry to food and wine.
In fact it is well worth taking a visit to the food hall, where you can purchase a whole range of fresh fish, meat, fruit and vegetables, plus a myriad of wines, and spirits. Also located in El Corte Ingles are a variety of restaurants and cafe's including a great tapas bar.
On the whole, Puerto Banus can be seen as brash, bold and 'in your face' but the fact that millions of tourists come here just to soak up the atmosphere means that it is a popular place and with all that Banus has to offer, it isn't hard to see why.
Return to Costa Del Sol Tourist Information