The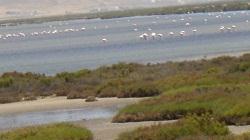 Cabo de Gata nature park covers an area of over 71,000 acres, dominated by massive volcanic rock formations which tumble down to the coastal plain of the peninsula.
The steep coastline, interspersed with coarse sand beaches, makes this place an ideal venue for nature lovers.
It is the driest place in Europe but supports an important wetland area for breeding and migrating birds.
South of the village we were able to view the flamingos in an area known as Las Salinas. Driving past Las Salinas, heading south, past the hill known as El Pico De San Miguel and along a narrow, winding road you'll reach El Faro, a forlorn looking lighthouse.
If travelling by car, you will need to drive back the way you came before heading again to San Jose – An attractive, small resort with a sandy beach.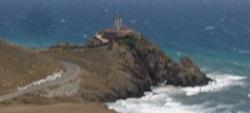 The road continues along the coastline all the way up to Cala De San Pedro.
This whole coastline is dotted with small fortifications built by Charles III to defend against pirates.
Examples of these forts can be found at Los Escullos, Rodalquilar and Las Negras.
We spent several hours touring the nature park enjoying the wild and rugged landscape from desert like conditions to dramatic cliff tops.
Our visit in May was out of season which enhanced the feeling of total isolation.
Return from Cabo de Gata to Almeria Province